2017 McCoy Lecture
2017-10-30
Writer(s): Steve Scherer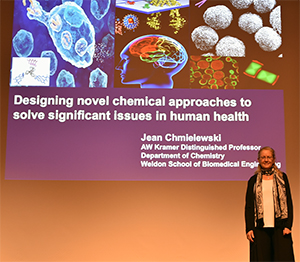 Jean A. Chmielewski, the Alice Watson Kramer Distinguished Professor of Chemistry and professor of biomedical engineering, presented the McCoy Distinguished Lecture on Oct. 30 in Stewart Center's Fowler Hall.
Her lecture titled, "Designing Unique Chemical Approaches to Solve Significant Issues in Human Health," provided insights into two different areas of chemical biology:
The development of agents that target intracellular pathogenic bacteria.
The design of molecules to promote the penetration of anti-HIV agents across the blood-brain barrier.
One of her nominators wrote: "Professor Chmielewski is a truly outstanding scientist who is internationally renowned and respected. She is highly deserving of this award for her fundamental studies in chemical biology and bioanotechnology, but also for the amazing impact that her designed systems are capable of, from promoting the brain delivery of therapeutics to developing 3-D scaffolds for regenerative medicine."
McCoy award-winners from The Department of Chemistry include:
Jean A. Chmielewski (2017)
Arun K. Ghosh (2015)
Scott McLuckey (2008)
Joseph S. Francisco (2007)
Philip L. Fuchs (2003)
Ei-ichi Negishi (1998)
Ben S. Freiser (1996)
Philip S. Low (1993)
R. Graham Cooks (1990)
C. Austen Angell (1987)
Dale W. Margerum (1983)
R. Stuart Tobias (1977)
Michael Laskowski (1975)
Robert A. Benkeser (1972)
Herbert C. Brown (1966)