Cooks Group Receives Gift from Agilent
2018-06-26
Writer(s): Steve Scherer, Agilent Technologies, Inc.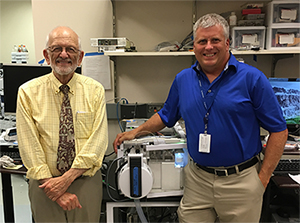 Professor R. Graham Cooks' research group is receiving a gift from Agilent Technologies, Inc. that will be used to explore ways of manipulating ions in the open air.
Agilent is a catalyst for the advancement of science in academic and government research, enabling breakthroughs in life sciences, diagnostics and applied chemical markets. This gift is made through Agilent's university relations program, advancing academic research while informing its long-term product and technology strategies and making a social contribution to the communities in which they do business.
This funding will allow the group to use 3D printed plastic electrodes to focus electrosprayed ions and understand how to broadly control ion motion in the open air so that ion transmission to mass spectrometers can be improved.
The gift is a new product, the Agilent Ultivo Triple Quadrupole, developed by a team working with Agilent's LCMS SQ & TQ R&D Manager Shane Tichy, a 2001 Purdue Ph.D. graduate who studied under the direction of Professor Hilkka Kenttämaa.
"I am delighted with this gift and look forward to working closely with Shane and our other collaborators at Agilent," said Professor R. Graham Cooks.
"Agilent is honored to support Professor Graham Cooks and his team. As one of the world´s most distinguished mass spectrometrists, his ability to transform vision into reality is unmatched. We welcome the opportunity to develop Agilent´s connection with one of the world´s premier MS researchers at a premier institution," added Shane Tichy LCMS SQ and TQ Agilent Mass Spec Division R&D manager.
Photo L to R: Professor R. Graham Cooks and Shane Tichy
[Photo credit: Shane Tichy, Agilent Technologies, Inc.]