External Advisory Board for Diversity Weekend
2018-06-18
Writer(s): Steve Scherer, Jean Chmielewski
Chemistry's External Advisory Board for Diversity recently visited campus and conducted a communication seminar for graduate students. The event kicked off with a welcoming social at Ross-Ade stadium where alumna Dr. Marquita Qualls was the keynote speaker. The board is led by Dr. Angela Ragin of the Center for Disease Control, and members include Drs. Cristina Acevedo, Darryl Boyd, Christopher Davies, Ayanna Jackson, and Charles Rubert-Pérez, all alumni of the Chemistry department's Ph.D. program.
Some of the topics covered during "Critical Convos: Practicing Effective Communication" included:
Building good work relationships
Effective presentations
Appropriate ways to approach conflict situations and conflict scenarios
In addition to organizing professional development opportunities for graduate students, the department's Diversity Transformation Award team represents Purdue Chemistry at on and off-campus graduate student recruiting events.
Professor Jean Chmielewski is leading Chemistry's initiatives to improve the diversity of graduate students in the Ph.D. program through targeted recruiting and mentoring strategies.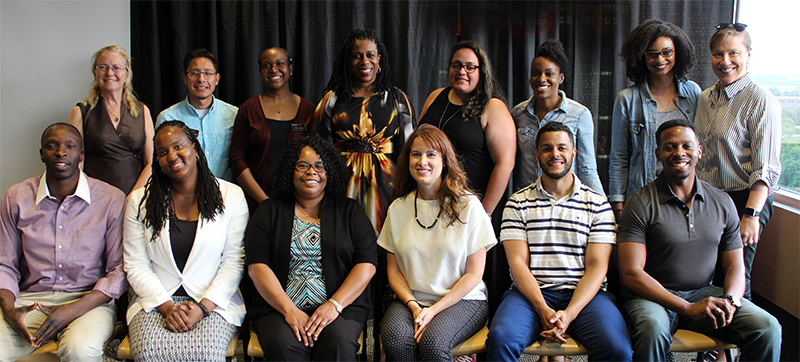 Front row L to R: (External Advisory Board) Christopher Davies, Ayanna Jackson, Angela Ragin, Cristina Acevedo, Charles Rubert-Pérez, Darryl Boyd.
Back row L to R: Jean Chmielewski, Moises Morales Padilla, Tamika Ragland, Marquita Qualls, Stephanie Santos-Diaz, Reena Blade, Colby Adolf, Christine Hrycyna.

Group photo of EAB, along with some of the graduate students and faculty member participants. (Photo credits: Kwaku Kyei-Baffour)