How a Phone Call from H.C. Brown Changed a Young Chemist's Career
2018-07-02
Writer(s): Steve Scherer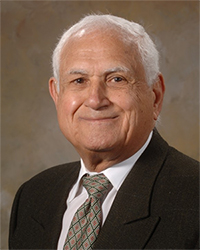 While working as a young chemist at Reilly Tar & Chemical Corporation in Indianapolis during the late 1950s, Adel Halasa accepted an interesting challenge.
"My boss, Dr. Kurntz, received a call from Professor H.C. Brown requesting to have a chemical made for him to prove his theory of steric hindrance - where a strong acid and a strong base will not complex if the base prevents the acid from complexing due to the sterically large base," Halasa explained.
Much to Halasa's amazement, he was able to produce 200 grams of 2,6-Di-tert-butylpyridine and the organic compound was sent to Purdue where Brown was very impressed.
"Professor Brown told the VP of Research, 'I want this boy to come to Purdue' saying he had many postdocs and none of them could make this compound, and he told the admission office to accept me without the graduate exams," Halasa remembered.
Brown suggested that Halasa join Professor Henry Feuer's group where a fellowship was available and he could pursue his interest in heterocyclic compounds.
After earning a Ph.D. from Purdue in 1964, Dr. Halasa had a distinguished career as lead scientific investigator at Firestone Tire & Rubber Co. and Goodyear Tire & Rubber Co. where developed the tread polymers for the Goodyear Aquatred tire released in 1991.
He has more than 300 patents and is a 1997 recipient of the Charles Goodyear Medal given by the American Chemical Society, Rubber Division, to members who "have exhibited exceptional technical competence by making significant and repeated contributions to rubber technology."
Halasa was presented the College of Science's Distinguished Alumni Award in 2004.
He resides in Akron, Ohio, and although retired, is a consultant to several worldwide companies and mentor/lecturer at more than a dozen universities.
"I tell my retired friends that science is not age-related or dependent, and I've had great fun and enjoyed life to its fullest all due to Purdue University which I am eternally grateful," Halasa added.