Grad Student awarded American Heart Association Predoctoral Fellowship
2018-07-25
Writer(s): Steve Scherer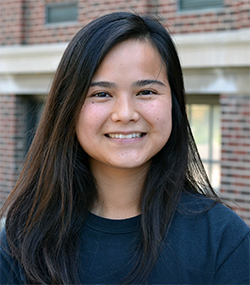 Monita Sieng, a graduate student in Professor Angeline Lyon's research group, was awarded an American Heart Association Predoctoral Fellowship.
The award was established to enhance the integrated research and clinical training of promising students who are matriculated in pre-doctoral or clinical health professional degree training programs and who intend careers as scientists, physician-scientists or other clinician-scientists, or related careers aimed at improving global cardiovascular health.
A native of San Jose, Calif., Sieng is studying aberrant changes in calcium signaling within the cardiovascular system.
Phospholipase C (PLC) enzymes promote intracellular calcium release through the hydrolysis of phosphatidylinositols and is implicated in cardiovascular disease.  PLCepsilon, specifically, interacts with a small GTPase Rap1A and dysregulation of this interaction can lead to prolonged activation of PLCepsilon resulting in cardiac hypertrophy and heart failure.
"The goal of my research is to understand how PLCepsilon and Rap1A interact with one another to regulate the concentration of calcium in cells using biochemical and structural approaches, and a greater understanding of this interaction will provide needed details into the mechanism underlying their role in calcium regulation and may lead to new therapeutic approaches to treat cardiovascular disease," Sieng explained.