Chemistry Professor Gaurav Chopra wins multiple ASPIRE Awards
2019-12-12
Writer(s): Purdue Chemistry, Indiana University Bloomington, SUNY Buffalo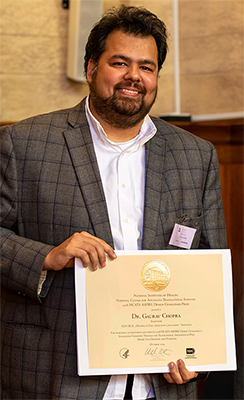 Gaurav Chopra, assistant professor of analytical and physical chemistry, has been selected as a dual winner of the 2018 National Center for Advancing Translational Sciences' ASPIRE Design Challenge.
The ASPIRE—A Specialized Platform for Innovative Research Exploration–award, which is part of the Helping to End Addiction Long-termSM Initiative, or NIH HEAL InitiativeSM, seeks to reward innovative approaches toward solving the opioid crisis by revolutionizing the discovery, development, and pre-clinical testing of next generation, safer, and non-addictive analgesics to treat pain. It also aims to create new treatments for opioid use disorder and overdose.
Chopra won two awards in the prestigious and highly competitive National Institutes of Health program.
"I am very excited to be selected for these awards and it shows NIH's commitment to supporting our work and ideas to solve real-world problems. The human brain is the final frontier in science. Mental health indications such as pain and addiction are poorly understood. Integrating data science, modeling and experiments in a rational, iterative manner using machine learning and chemistry/biology specific representations have the potential to identify drug leads as well as provide new insights using relationships between different kinds of data," said Gaurav Chopra, Assistant Professor of Analytical and Physical Chemistry.
Chopra's first project, a collaboration with David Wild, an associate professor of informatics and computing at Indiana University's School of Informatics, Computing, and Engineering, took home a prize in the "Integrated Chemistry Database for Translational Innovation in Pain, Opioid Use Disorder and Overdose" category for their design solution titled CIPHER Knowledgebase for Pain, Opioid Abuse and Overdose.
This category aims to address the need for an open-source, controlled-access database that incorporates all currently available chemical, biological, and clinical data of known opioid and non-opioid based analgesics, drugs of abuse, and drugs used to treat drug abuse. Chopra and Wild provided a detailed description of the design of the database that not only focused on a single disease but also can be adapted for scalability and/or use for other disorders.
"Both projects highlight the development of much needed infrastructure as a first step to solve these problems. The first award will help us build an integrated chemistry graph-based hierarchy that combines different types of chemical and biological information (structure, properties, etc.) along with physical modeling and experimental data in a single framework. This will also provide specific chemical representations for different machine learning architectures. Such a framework is essential to integrate disparate sources of data, a hard problem in the field, to provide new insights between pain and addiction with other seemingly unrelated diseases," added Chopra.
In his second project, a collaboration with Ram Samudrala, professor and chief of bioinformatics in the Department of Biomedical Informatics at SUNY Buffalo, Chopra was awarded in the "Predictive Algorithms for Translational Innovation in Pain, Opioid Use Disorder and Overdose" category.
In their design solution titled Optimum Analgesic Discovery by Multiscale Interactomic Profiling, Chopra and Samudrala seek to virtually design new molecules that are optimal analgesics with a low risk of addiction, using the Computational Analysis of Novel Drug Opportunities (CANDO) platform they developed. Chopra's work on CANDO platform for mental health indications was highlighted by President Mitch Daniels in November 2019 on finding new medication options for people dealing with mental illnesses.
"The second award will use integrated chemical and biological information along with physical model based machine learning methods to discover new drug leads and target molecules. Traditional drug discovery is performed by optimizing a compound's potency against a single target with less thought towards its interactions with the plethora of other potential cellular targets. Our proposed platform moves away from a single-target paradigm and develops an interactome-profile for any specific indication. Specifically, for addiction, by computing how every opiate interacts at the omics-scale (such as interaction with all proteins, etc.) we can identify patterns that are similar to non-addictive drugs using machine learning methods. Such interactome patterns can provide comprehensive handle on the puzzle of addiction in the context of pain management to generate new non-addictive drug leads and identify new target molecules for experimental validation," Chopra explained.
"The multidisciplinary computational approaches Dr. Chopra and his collaborators are taking have the potential to make significant advances in pain management and addiction," said Christine Hrycyna, Chemistry department head and 150th Anniversary Professor.
"These awards speak to both the college's reputation as a leader in data science and to the cross-disciplinary nature of the field itself, where we are set to create strong impact across the physical, life, and health sciences," said Patrick J. Wolfe, the Frederick L. Hovde dean of Purdue's College of Science.  "Dr. Chopra's work illustrates the transformational nature of data science as applied to one of the most devastating health crises in the country."
"The National Institutes of Health ASPIRE awards are prestigious awards that reward innovative chemistry design for pain intervention. Dr. Chopra's platform is very novel and has the potential to transform our approach to drug discovery," said Timothy L. Ratliff, distinguished professor of comparative pathobiology and Purdue's Robert Wallace Miller Director of the Center for Cancer Research.
The NCATS ASPIRE Design Challenges winners presented their projects and were recognized during a ceremony at NIH Headquarters Oct. 28 in Bethesda, Maryland.