In Memoriam: Dale W. Margerum
2019-08-16
Writer(s): Christine Hrycyna, Steve Scherer, David McMillin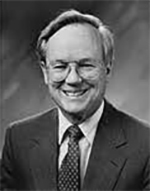 Our friend and colleague Emeritus Professor Dale Margerum passed away in August 2019 at his home in West Lafayette.
Dale was born in Ferguson, Missouri, in 1929. He earned a bachelor's degree in chemistry at Southeast Missouri State University, and a doctorate at Iowa State University in 1955.
Dale came to Purdue as an instructor in 1954 and rose to the rank of professor in 1965. He became the Harvey Washington Wiley Distinguished Professor of Chemistry in 1997. He retired in 2008.
To name a few of his accomplishments as Department Head (1978-1983), he initiated the Annual Awards and Recognition luncheon, paved the way to the creation of the Division of Chemical Education, started overdue renovation of the Wetherill building, and hired future Nobel laureate Ei-ichi Negishi in 1979.
His research contributions ranged from inorganic to analytical chemistry, from kinetics to thermodynamics, and they spanned the Periodic Table. His early work dealt with the kinetics of complexation and decomplexation of multidentate ligands with labile metal ions. That led to an explanation for the enhanced stability of complexes with macrocyclic ligands, the so-called "macrocyclic effect." His group also made many advances in developing techniques useful for studying fast reactions, involving both main group and transition metal complexes. Their work on halogen chemistry solution was very relevant to water treatment and environmental chemistry. Other landmark achievements included discovering the unexpected chemistry of high oxidation state copper and nickel centers complexed with biologically relevant polypeptide ligands.
During his 54 years at Purdue, Dale received awards and recognitions from the American Chemical Society, the National Science Foundation, and he was awarded the Sagamore of the Wabash. At Purdue, he was awarded several honors including the McCoy Research Award and the Wetherill Medal.
Dale published 260 research papers. Under his tutelage, 91 students earned doctorates, 22 earned their master's degrees, and he led research work of 12 visiting associates, 32 postdocs, and 46 undergraduates.
His community involvement included fundraising for United Way, serving on the Board of the Lafayette Symphony, and active participation in the Taste of Tippecanoe and Global Fest.
Our hearts, thoughts, and prayers go out to his wife Sonya and his entire family.
Watch Dr. Margerum's 2009 oral history in Purdue Archives and Special Collections.