Professor Cooks presented Chinese Scientific Award
2020-01-14
Writer(s): Steve Scherer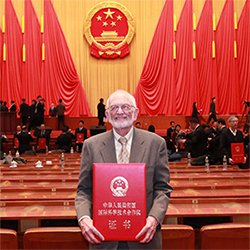 Professor R. Graham Cooks was awarded the 2019 International Science and Technology Cooperation Award of the People's Republic of China in Beijing on January 10, 2020.
It is the country's top scientific award for foreign scientists, "recognizing the key roles foreign scientists have played in China's scientific development as well as China's growing effort to diversify its scientific partners in recent years," according to the Chinese National Office for Science and Technology Awards.
Professor Cooks was one of ten international scientists from eight different countries to receive the award.