Grad Student earns Eli Lilly-Stark Neuroscience Research Fellowship
2020-03-28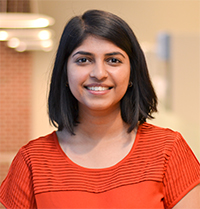 Graduate student Priya Prakash was selected as a 2020 Eli Lilly-Stark Neuroscience Research Fellow in Neurodegeneration based on her thesis work on microglial phagocytosis. The project encompasses chemistry and neuroimmunology. Eli Lilly-Stark Neurosciences Predoctoral Research Fellowship in Neurodegeneration is a joint initiative between Eli Lilly and Company and Stark Neurosciences Research Institute at Indiana University School of Medicine and is managed by the Indiana Clinical and Translational Sciences Institute.
"Microglia—the brain's resident immune cells are critical to the maintenance of tissue homeostasis yet their role in brain health and disease is poorly understood. My work is focused on developing new biochemical tools and techniques to characterize how these cells respond to the amyloid-beta (Aβ) peptide in the context of Alzheimer's disease and other neurological conditions," Priya explained.
"The most exciting part of my research is the discovery of new and previously unknown mechanisms of microglial immune response towards Aβ. By using the novel chemical probes developed in the lab, we are able to ask specific questions related to Aβ specificity and microglial cell subsets that were previously not possible. Additionally, we are using analytical chemistry techniques to characterize the proteome, lipidome, and metabolome of microglia with Aβ exposure to identify new targets and biomarkers. The datasets generated in this work will open new avenues for studying Aβ-specific microglial function and lay the foundation for the development of new and innovative therapeutic strategies for combating neurodegeneration," she added.
Priya is from the Purdue University Interdisciplinary Life Science (PULSe) program and is a member of Professor Gaurav Chopra's research group. After completing her Ph.D., she hopes to pursue postdoctoral research by continuing to work at the interface of neuroscience and immunology.