Alumnus wins Senior Olympics Medals
2020-03-26
Writer(s): Steve Scherer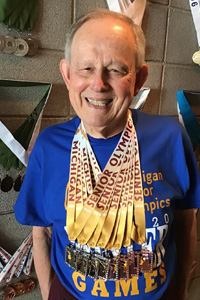 Alumnus Wendell L. Dilling (Ph.D., 1962) was awarded eight medals at the recent Michigan Senior Olympics Indoor Track and Field competition held on Feb. 11 at the Macomb Community College Sports and Expo Center in Warren. 
He won silver medals in the shot put, triple jump, 60 m low hurdles, and 800 and 1500 m runs in the men's 80-84 age division. In addition, he won bronze in the 60 and 200 m dashes and 400 m run. He placed fourth in the long jump and 1500 m power walk.  
A resident of Midland, Dr. Dilling was a research chemist at Dow Chemical for 30 years and for the past 29 years is currently a research advisor for chemistry students at Central Michigan University. 
While at Purdue from 1958-1962, he worked with his research advisor Professor Earl McBee and was influenced by organic chemistry professors Robert Benkeser and Nathan Kornblum. 
"I worked on the chemistry of hexachlorocyclopentadiene derivatives. My most significant result was the dechlorination of the dimer of that compound to form 1,4-bishomocubane," Dilling remembered. 
"See if current students can write the reaction sequence for that!" he challenged. 
Dr. Dilling says his campus life at Purdue was mainly in the chemistry building although he and his wife Marcia attended music programs, football games, and track meets. 
"I met my wife at Manchester College and we were married the summer before arriving at Purdue. She is a Purdue chemistry graduate also," he added.
Photo courtesy of Marcia Dilling (B.S., 1961)