In Memoriam: Emeritus Professor George Bodner
2021-03-20
Writer(s): Steve Scherer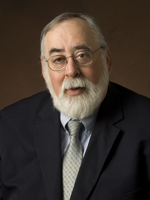 Our colleague and emeritus professor George M. Bodner died yesterday at the age of 75.
Bodner was not only a popular instructor, innovative researcher, and leader in our department for more than 40 years, he held several leadership roles on campus and in the American Chemical Society.
"George was an amazing person, scholar, and mentor whose legacy will live on forever. I will certainly miss him dearly and we send our deepest condolences to his family, and especially to his wife, Chris," said Department Head and 150th Anniversary Professor Christine Hrycyna.
Born in Rochester, New York on March 8, 1946 and raised within a half-mile of Kodak Park, he earned an undergraduate degree at SUNY Buffalo in 1969 and a Ph.D. at Indiana University in 1972.
Dr. Bodner came to Purdue in 1977 as an assistant professor after three years at the University of Illinois at Urbana-Champaign and two years at a liberal arts college. He was hired here to teach General Chemistry and implement a TA orientation program he developed at UIUC.
In 1981, he and Dudley Herron proposed the creation of the chemical education graduate program that has graduated more than 100 Ph.D.'s. On the basis of his work with the chemical education program, he was presented the ACS George C. Pimentel Award in Chemical Education and the ACS Award for Achievement in Research for the Teaching and Learning of Chemistry, as well as the RSC Nyholm Prize for Education.
As a teacher in our department – adding the number of semesters he taught the CHM 115-116 course sequence, the CHM 255-256 sequence, and the CHM 372 PChem course – Dr. Bodner instructed more than 50,000 students at Purdue!
At Purdue, he served the University Senate for nearly 35 years on committees that created: (just to name a few)
The Center for Instructional Excellence
The Teaching Academy
The Purdue Honors College
October Break
Dr. Bodner held faculty positions in the College of Education and the College of Engineering at Purdue. In 2005, he was involved in creating the School of Engineering Education, which has grown from four to more than 20 faculty.
At the national level, he was the first chemical educator to be elected to the ACS Board of Directors. While a member of the Board, he worked with ACS staff to create the American Association of Chemistry Teachers (AACT), which enrolled more than 4000 teachers during its first four years.
He was the author of more than 150 papers and more than 50 books or laboratory manuals.
He retired in 2019 but continued to lead the Chemical Division for an additional year.
Chemistry is planning a memorial service in his honor as soon as it's possible to gather in-person.
And there will be a breakout room at the virtual ACS meeting (Sunday, March 21st, 6:00pm, US Central time) for people wanting to remember George.  It will take place via Zoom and anyone who wishes to attend is absolutely welcome, ACS/DivCHED member or not.
> > 3/30/21 Update: Link to Dr. Bodner's obituary and info about his Friday, April 2 - 7pm EDT memorial service via Zoom.
Please send your rememberances of Dr. Bodner to chemnews@purdue.edu and we will share them on this site.
"Professor Bodner was literally my introduction to classes at Purdue. Fall 1983 at 7:30 am to start my college career. I will remember his presentation as a welcome to chemistry and the university. He kept class interesting."
- Bruce Croissant, BSCE 1988
"Our careers were parallel, his at Purdue and mine at Vincennes University. He was free with advice and encouragement to the Faculty and students at Vincennes University. Our students transferred well to Purdue.  Much of the credit for their success was due to the advice and help George gave us in building relationships and help in maintaining a quality program. Several Purdue graduates have been members of the Vincennes University chemistry department. He was helpful to the leadership of the two year branch of the ACS Division of Chemical Education."
- Jay Bardole, professor emeritus of chemistry at Vincennes University
"Dr. Bodner has been a central figure in my career as a chemistry professor. As a freshman, who at the time was pursuing a mechanical engineering degree, after the first day of taking his general chemistry class I changed majors to chemistry. The next year I joined his research group as an undergraduate research assistant where we recorded and posted some of the first chemistry demonstration videos on the internet, focusing on what he called "exocharmic reactions", those that exude charm. After graduating and completing a master's degree in Australia (chosen partially based on his recommendation,) I came back to Purdue with the expressed purpose of doing my PhD with him. However, George knew me very well and recommended that I talk to all the environmental chemists before making my final decision. I eventually decided to join Dr. Francisco's group and work on atmospheric chemistry projects, while also doing some chemistry education research projects with Dr. Bodner. Since graduating, George has always been available for advice and guidance. I will miss his smile and quick-witted sense of humor most of all."
- Alex Davis (BS 2001, PhD 2011), Assistant Professor of Chemistry, Cabrini University
"George Bodner was an excellent mentor. I've always been proud to be in his group, even if for a short time (1996-1997). He both inspired and encouraged me to turn my route into chemistry education in my academic career. He always supported me and he was the editorial board member of JOTCS-C which I am the editor. I learned much from him. I will miss him. My condolences to his family."
- Canan Nakiboğlu, Professor of Chemistry Education, Balikesir University, TURKEY
"I wanted you to know what an impact he had on my (nonconventional) career and my teaching now after retirement. Over the past week, I was compelled to find and read all his publications that came up in searches. What a rich legacy. It will be invaluable as I teach Physics and Electrical Engineering. Here's to George! With sadness but much joy, I celebrate George's Life and the gifts of insight from my Chemistry Grad School days working in his "Enlightened Monarchy" as one of his Graduate Instructors. (Fall '79 to '83)."
- Mark Vinyard, MS Chemistry (Analytical), MSEE (Solid-State), 1987
"Faculty in the School of Engineering Education, the first such school in the world, appreciate George's transformational contribution to the School and its members. George worked with our founding head Kamyar Haghighi towards the founding the Department of Engineering Education in 2004, advocated broadly for discipline-specific educational research, generously mentored faculty in engineering education including encouraging faculty to get courtesy appointments in education, and served on students' committees for years. School members have visual memories of George talking about 'deep stuff' and he would lean deeply back in his chair, place his hands together over his middle, and with a twinkle in his eye tell you a story of how the idea you are talking about 'came to be'."
- Alice Pawley, Associate Professor - School of Engineering Education
"George was for me part of a wonderful trend at Purdue in the 1970's: namely, recognition of STEM education as a discipline worthy of robust research that could be applied to the classroom in a practical way. It was a privilege to be the beneficiary of that trend and the work of people who led it, including (among others) Van Neie in physics, Dudley Herron in chemistry, and Grayson Wheatley in mathematics."
- Patrick Ridgely
"I was informed today that George Michael Bodner passed away on March 19, 2021. That was soon before a book I edited was to be published by the Royal Society of Chemistry. The book is entitled "Problems and Problem Solving in Chemistry Education", and includes a Foreword written by George. Unfortunately, George did not live to see in print his thought provoking autobiographical foreword and the whole book. Alll readers of the book  will certainly enjoy it 
I knew of his health condition, so I felt worried when (on February 19, 2021) I did not receive a response regarding the proof-checking of his foreword , which I did for him. Last time we communicated was on December 31, 2020. 
I had collaborated with George in many other ways since 2000, especially regarding the journal "Chemistry Education Research and Practice", which I founded and edited for 11 years, during which George provided valuable work as author, reviewer, and member of the editorial board.
He had a special, excellent and original spirit in his thinking and writings that impressed us all.
Today I was going to write him an e-mail message, to ask if he had received his complimentary copy of th book, and I was deeply sorry to learn of his death.
I express my warm condolences to his family, friends, students and colleagues. He was one of the top figures in chemistry education in the whole world, and the whole community will continue to benefit from his works and remember him forever."
-Georgios Tsaparlis, Professor Emeritus of Science Education, Department of Chemistry, University of Ioannina - Ioannina, Greece, 7 August, 2021