Science K-12 Outreach Update
2021-08-12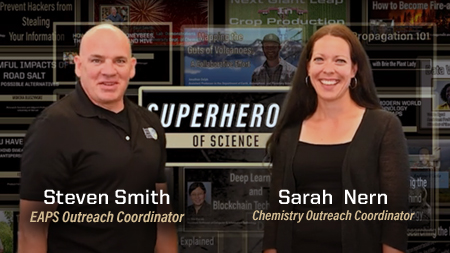 This summer, Science K-12 Outreach released 16 Superheroes of Science "Science from the Experts" Episodes, posted 34 educational related videos on our YouTube channel, collaborated on 7 grants, and facilitated teacher professional developments that had a total attendance of 319 teachers attending live Webex presentations. Impact from our social media posts included a reach of more than 57,000 people. Additionally, there were more than 1000 downloads of Superheroes of Science audio podcasts and 4,200 views on our Superheroes of Science YouTube channel.     
Outreach is lining up more interviews, planning in-person AP Friday sessions, and working on other virtual and in-person outreach events for the Fall 2021 semester.
Superheroes of Science on YouTube: https://www.youtube.com/c/SuperheroesofScience
Facebook and Twitter: @PurdueSOS
TikTok: @superheroesofscience 
You can also find Superheroes of Science on your favorite podcast platform.