Chemistry Alumnae join ASMS Board
2022-01-21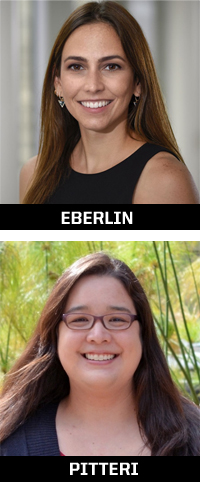 The American Society for Mass Spectrometry (ASMS) has elected two Purdue Chemistry alumnae to its Board of Directors.
Livia Eberlin (Ph.D. with Graham Cooks) associate professor at Baylor University School of Medicine, and Sharon Pitteri (Ph.D. with Scott McLuckey) associate research professor in radiology at Stanford University Medicine will join the 9-member board.
Pitteri will serve as treasurer and Eberlin is a member-at-large for education. Their terms begin July 1, 2022.
ASMS is an 8,500 member professional society. Members come from academic, industrial and governmental laboratories. Their interests include advancement of techniques and instrumentation in mass spectrometry, as well as fundamental research in chemistry, geology, forensics, biological sciences and physics.
Purdue has played a disproportionately large role in its activities, as noted below:
ASMS officers (1978-present):
Graham Cooks (Faculty)
Richard Caprioli (Faculty)
Gary Glish (Ph.D.)
Scott McLuckey (Faculty, Ph.D.)
Jennifer Brodbelt (Ph.D.)
Vicki Wysocki (Ph.D.)
Julia Laskin (Faculty)
7 of 21 positions
VP Arrangements: 
Gary Glish (Ph.D.)
Bob Hettich (Ph.D.)
Chip Cody (Ph.D.)
3 of 21 positions
Secretary:
Yu Xia (Faculty, Post-doc; Ph.D.)
Jenny Brodbelt (Ph.D.)
Carolyn Cassady (Ph.D.)
Steve Lammert (Ph.D.)
4 of 21 positions
Treasurer: 
Julia Laskin (Faculty)
Vicki Wysocki (Ph.D.)
Sharon Pitteri (Ph.D.)
3 of 21 positions
Member-at-large Education:
Gavin Reid (PD)
Marvin Vestal (M.S.)
Livia Eberlin (Ph. D.)
3 of 21 positions
Member-at-large Publications/Membership:
Hilkka Kenttamma (Faculty, PD)
Richard Caprioli (Faculty)
3 of 21 positions
Member-at-large Digital communications/Measurements and standards
Ken Busch (PD)
1 of 21
Awards
Distinguished Contribution/Fenn:
Mike Gross (Post-doc)
Scott McLuckey (Faculty, Ph. D.)
Richard Caprioli (Faculty)
Marvin Vestal (M.S.)
Vicki Wysocki (Ph. D.)
Graham Cooks (Faculty)
Fred McLafferty (Faculty)
Franz Hillenkamp (M.S.)
8 of 41
Biemann:  
Scott McLuckey (Faculty, Ph.D.)
Bob Squires (Faculty)
Julia Laskin (Faculty)
3 of 24
Research Awards:
Xin Yan (Ph.D.)
Ian Webb (Ph.D.)
Abraham Badu-Tawiah (Ph.D.)
Kerri Pratt (PD)
Yu Xia (Faculty, PD, Ph.D.)
Sharon Pitteri (Ph.D.)
Hao Chen (Ph.D.)
Zheng Ouyang (faculty, Ph.D.)
Gavin Reid (PD)
Andy Tao (Faculty, Ph.D.)
Ethan Badman (Ph.D., PD)
Paul Wenthold (Faculty, Ph.D.)
Don Reiderer (Ph.D.)
Lee Sunderlin (PD)
Susan Graul (Ph.D.)
Vicki Wysocki (Ph.D.)
Kevin Schey (Ph.D.)
Hilkka Kenttamaa (faculty, PD)
Jenny Brodbelt (Ph.D.)
Denley Jacobson (Ph.D.)
20 of 90 
Research at PUI: 
Christopher Mulligan (Ph.D.)
1 of 4
Hites Award:
Scott McLuckey, Hao Chen, Julia Laskin