Professor Shelley Claridge to receive the Schmidt Science Polymaths Award
2022-06-29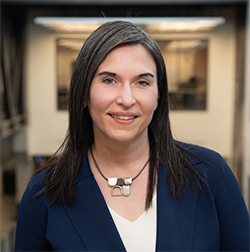 Professor Shelley Claridge has been awarded the Schmidt Science Polymaths award. Schmidt Futures announced ten new recipients of the award, which provides $500,000 a year, paid through their institution, for up to five years to help support part of a research group.
The Polymath program makes long-term bets on recently-tenured professors with remarkable track records, promising futures, and a desire to explore risky new research ideas across disciplines. The awardees are the second group to receive the Polymath award, joining just two other exceptionally talented interdisciplinary researchers named in 2021.
The awards build upon Schmidt Futures' commitment to identifying and supporting extraordinary talent, and growing networks empowered to solve hard problems in science and society.
Dr. Claridge is an Associate Professor of Chemistry and Biomedical Engineering. She uses her interdisciplinary background in nanostructured materials and molecular-scale imaging to create materials with inexpensive structural elements that exceed spatial resolution achieved in multi-billion dollar fabrication facilities.
Much previous work in surface science has demonstrated atomic or molecular scale control over 'perfect' crystalline surfaces, typically over very small areas and under highly controlled conditions. Dr. Claridge's group has recently developed unconventional strategies to extend precise chemical control to imperfect surfaces operating under real-world conditions, opening the door to a broad range of applications from human health to wearable electronics.
Her perspectives on materials chemistry are also shaped by previous experience as a professional software engineer with training in pure mathematics.
The awards build upon Schmidt Futures' commitment to identifying and supporting extraordinary talent, and growing networks empowered to solve hard problems in science and society. Each Polymath will receive support at the moment in their careers when researchers have the most freedom to explore new ideas, use emerging technologies to test risky theories, and pursue novel scientific research that traverses fields and disciplines, which is otherwise unlikely to receive funding or support.
"The interdisciplinary work that could herald the next great scientific breakthroughs are chronically under-funded," said Eric Braverman, CEO of Schmidt Futures. "We are betting on the talent of the Schmidt Science Polymaths to explore new ideas across disciplines and accelerate discoveries to address the challenges facing our planet and society."
Dr. Claridge's future research brings the high-resolution tools of classical surface science to bear on the design of hierarchical function in complex soft matter including human tissue.
Hopeful Polymaths from over 25 universities submitted applications outlining research ideas in STEM fields that represent a substantive shift from their current research portfolio and are unlikely to receive funding elsewhere for consideration to the Schmidt Science Polymaths program. Existing Polymaths' ideas range from the artificial creation of complex soft matter like human tissue, to the development of synthetic biology platforms for engineering multicellular systems, to the discovery of exotic forms of quantum matter. The impact of this type of interdisciplinary research could result in innovations previously thought impossible like a 3D printer for human organs, climate change-resistant crops, or the unknown applications of quantum matter.
"Single-minded -specialization coupled with rigid research and funding structures often hinder the ambition to unleash fresh perspectives in scientific inquiry," said Stuart Feldman, Chief Scientist of Schmidt Futures. "From climate change to public health, the Schmidt Science Polymaths utilize the depth of their knowledge across a breadth of fields to find new ways to solve some of our hardest problems for public benefit."
Representing a diverse array of intellect across STEM fields, this group of Polymaths are an extraordinary example of the type of exceptional talent that Schmidt Futures scours the earth looking to find and support. Schmidt Futures proudly introduces the 2022 Schmidt Science Polymaths:
Samir Bhatt, Imperial College London
Shelley Claridge, Purdue University
Ido Kaminer, Israel Institute of Technology
Ahmad 'Mo' Khalil, Boston University
Lulu Qian, California Institute of Technology
Andrew Saxe, University College London
Suchitra Sebastian, University of Cambridge
Sudip Shekhar, University of British Columbia
Randy Goldsmith, University of Wisconsin- Madison
Mary Caswell Stoddard, Princeton University
About Schmidt Futures:
Schmidt Futures bets early on exceptional people making the world better. Founded by Eric and Wendy Schmidt, Schmidt Futures is a philanthropic initiative that brings talented people together in networks to prove out their ideas and solve hard problems in science and society.