Sun Polymers Summer Scholars
2022-07-29
Writer(s): Steve Scherer
Chemistry's inaugural Sun Polymers Summer Scholars for 2022 are John Gulliver (Ghosh Lab); Michael Jorgensen (Chmielewski Lab); Vibha Kanale (Uyeda Lab); Hani Lakkis (Parkinson Lab); and Kangying Connie Liu (Boudouris Lab).
This generous gift from Sun Polymers International, Inc. allows these students to focus exclusively on their lab research during the summer semester.
Sun Polymers, located in Mooresville, Indiana, manufactures polyester resins for the powder-coating industry.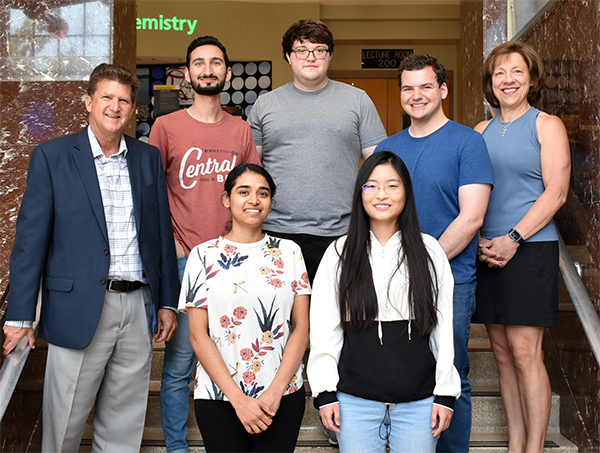 Front Row: Vibha Kanale, Kangying Connie Liu
Back Row: Paul West, Sun Polymers International, Inc., Director of Marketing; Hani Lakkis; John Gulliver; Michael Jorgensen; Christine Hrycyna, Purdue Chemistry Department Head and 150th Anniversary Professor