Ukrainian Scientist joins Chemistry Department
2022-12-01
Writer(s): Steve Scherer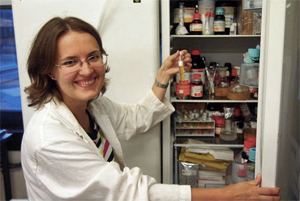 Anna Pavlishchuk, a faculty member at Taras Shevchenko National University of Kyiv, has joined our department as part of Purdue's Ukrainian Scholars Program.
A native of Kyiv and an inorganic chemist, Dr. Pavlishchuk came to Purdue in October and has been collaborating with Professor Jean Chmielewski in the Wetherill Lab building.
"In Professor Chmielewski's lab, I have been working to generate new biomaterials based on assemblies obtained from peptides and metal ions," Pavlishchuk explained.
"Dr. Pavlishchuk was a well-established inorganic chemist in Ukraine, with research funding and a research group. It's incredible that all of that changed with the Russian invasion of Ukraine. Her research experience is proving to be invaluable to my group, and I hope she can bring new skills back to her labs in the future," stated Chmielewski, Alice Watson Kramer Distinguished Professor of Organic Chemistry and Chemical Biology.
Purdue's Ukrainian Scholars Initiative assists faculty members and scholars from Ukraine whose academic pursuits have been derailed by the conflict.
"The bomb threats early in the war and the continued power outages caused by Russia's heavy bombardment of infrastructure have made scientific research in Ukraine very difficult," Pavlishchuk explained.
"As soon as we heard about the scholars program, [Department Head] Chris Hrycyna and I were determined to bring a Ukrainian scientist to the Chemistry department. It took about six months to bring Anna here to Purdue, but the international scholars office and our Chemistry liaisons, Jackie Butram and Audra Weideman, were wonderful," Chmielewski said.
Last spring when the war began, Dr. Pavlishchuk was teaching chemistry online because existing COVID course delivery protocols were already in place. But her move here into a distant time zone has made teaching impossible, so she is concentrating on her scientific work.
"Continuing research in Professor Chmielewski's lab has been my priority, and emotionally, that focus has helped me cope with what is happening back in Ukraine," she said.
As an active member of the Chmielewski research group, Dr. Pavlishchuk has attended several organic and inorganic seminars this semester; as well as the PINDU Annual Inorganic Conference at Notre Dame.
Dr. Pavlishchuk's trip to Purdue is not her first time visiting the United States. Five years ago, she was a Fulbright Scholar at Drexel University studying with inorganic chemist Anthony Addison. During that time, she collaborated with our X-ray crystallographer, Dr. Matthias Zeller, who brought Anna to the attention of Professors Chmielewski and Hrycyna for the scholars program.
"Because I've been focused on my lab work, I haven't been able to explore the area too much. When I arrived in October, the autumn color on the Purdue campus was so beautiful. Once I'm established, I hope to visit Indianapolis and Chicago," Pavlishchuk said.