Adam Wasserman selected as University Faculty Scholar
2022-11-17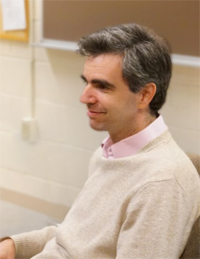 Professor Adam Wasserman has been selected as a 2023 University Faculty Scholar by the Office of the Provost. 
The University Faculty Scholars Program recognizes outstanding faculty members who are on an accelerated path for academic distinction.
Recipients of this honor have the rank of tenured associate or full professor and have been in that rank for no more than five years.
Candidates are nominated by their academic areas, reviewed by a committee in the College of Science, and approved by the provost.
"I will use the award to further our research on the foundations of Density Functional Theory to improve the accuracy of electronic-structure calculations for molecules and materials," Wasserman explained.
Faculty Scholars are appointed for a five-year term and receive an annual $10,000 discretionary allocation to support their research. The program was created in 1998.