Longtime staff member Bob Santini dies at age 81
2023-03-16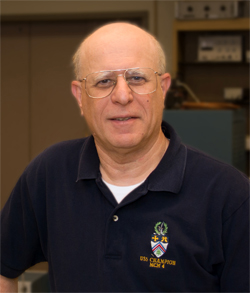 Our colleague and friend Dr. Robert Santini passed away on March 11, 2023 at age 81. 
Bob was a part of our department for more than 50 years. He received a PhD with Harry Pardue in 1970 and spent his career here as a senior instrumentation specialist and served for twenty years as the director of the Amy Facility.
Among his many talents, Bob was a renowned expert in spectrometry and on the application of high resolution Nuclear Magnetic Resonance (NMR) spectroscopy and Magnetic Resonance imaging (MRI) to chemical and biological research.
Related links:
Listen to Bob's 2011 oral history interview in the Purdue Archives and Special Collections: 
Part one
Part two