Cancer Cell Culture
Purpose
To provide students and researchers an environment to perform cancer cell culture based research. Training equips individuals with the knowledge of correct aseptic techniques and mathematical calculations for precise cell growth, while flow cytometry affords individuals the opportunity to monitor and measure cell response to laboratory developed compounds.
Location
Brown Chemistry Building - Room 3125
Consultation Hours
Monday - Friday
9:00am - 5:00pm
Training Hours
By appointment only
Cell Culture Facility
Active Cell Culture Lab Membership required for use of the facility after training.
Bloodborne Pathogen, Chemical Hygiene Plan, and Personal Protective Equipment training required before use of the facility or training
Contact the manager directly to schedule training on the following:

Mammalian Cell Culture, training includes:

Fundamentals in aseptic technique
Reviving and preservation of cells using liquid nitrogen
Hemacytometer counting
Expansion and general maintenance of cell cultures

Autoclave
Flow cytometer
Services
Please contact the laboratory manager for current pricing, Chemistry department faculty will receive a discounted rate. All students requesting training must be part of a university research group.
12 Month Cell Culture Lab Membership with cell culture training
6 Month Cell Culture Lab Membership with cell culture training
Cell culture training
Autoclave training – Chemistry department only, no charge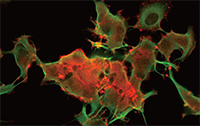 Michael Alley, Laboratory Manager
galley@purdue.edu
765-494-5295
BRWN 3125