2019 Chemistry Show
Saturday, October 19, 2019
10:30-11:30AM
WTHR 200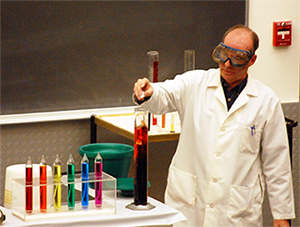 "Color of Chemistry" takes center stage at Oct 19 chemistry show
The Department of Chemistry is presenting the "Color of Chemistry" at 10:30 a.m. on Saturday, October 19, 2019 in Wetherill Laboratory of Chemistry (WTHR 200). The free, 60-minute show is open to the general public.
"The Color of Chemistry" will explore and demonstrate the brilliant colors and production of light that many chemical reactions exhibit. A wide range of chemical reactions will be demonstrated that produce colors across the whole color spectrum. At several times throughout his presentation, the audience will be able to participate.
The annual Chemistry Show is part of Purdue University College of Science's mission to introduce K-12 students to the wonders of science.
Source: Paul E. Smith, Department of Chemistry Director of Lecture Demonstrations