2022 Chemistry Show
Saturday, October 22, 2022
10:30-11:30AM
WTHR 200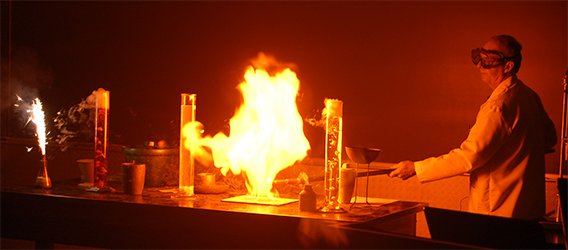 "Fire & Ice" takes center stage at Oct 22 chemistry show
"Fire and Ice" the Annual Fall Chemistry Show will be presented on October 22, 2022. Demonstrations will be held at 10:30 a.m. in Room 200 of Wetherill Laboratory of Chemistry, located directly north of Stewart Center on the Purdue campus.
The one hour show, sponsored by Purdue's Department of Chemistry, is of interest to a wide range of ages from 6 and up and is open to the public free of charge.
The show will include a wide range of demonstrations designed to explore the extremes of hot and cold through the science of chemistry. Demonstrations will include experiments using fire, fire and ice, fire in dry ice and super cold liquid nitrogen. Liquid nitrogen quickly freezes and changes the behavior of room temperature materials such as racquet balls, helium balloons, water balloons and many more.
Additional information on the shows may be obtained by calling Paul E. Smith, Director of Lecture Demonstration for the Department of Chemistry, 765-494-5307