Chaney-Hale Hall of Science chemistry teaching labs updated with new iPads
2023-08-15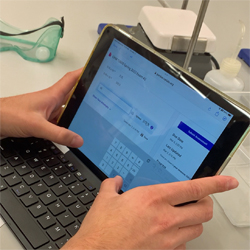 Purdue Chemistry is wrapping up the summer break with a project to keep its teaching labs on the cutting edge.
Professor Jonathan Rienstra-Kiracofe is leading a team to refresh the student iPads in Chemistry's undergraduate teaching labs located in Chaney-Hale Hall of Science (CHAS).
"We're replacing 675 older, leased iPads with 800 new, latest generation iPads that have been leased from Apple, ensuring that these iPads will serve all of our CHAS teaching labs for the next four years," explained Rienstra-Kiracofe, Chemistry Professor of Practice who is overseeing the terms of the new lease.
"Every student in lab will have an iPad in hand and all teaching TAs will have iPads to use for instruction and grading purposes," he added.
Completing the new iPad Lease and getting the iPads unboxed, configured, and set up in the CHAS labs required a total team effort from Chemistry and the College of Science:
Chemistry business office manager Leslie Martin and Chemistry procurement manager Suzy Gustafson worked with university procurement to get the lease in place and the iPads ordered.
Chemistry senior instrumentation specialist Konrad Kliewer has served as the point of contact for receiving the iPads and ensuring that accessories (such as carts, etc.) are also ordered and ready for use.
Chemistry Prep Lab director Jeanne Meyer and her staff are working to ensure that iPads are ready for student use in each lab room.
College of Science IT team members Tanner Buffenbarger, Brooke Carmichael, and Rebecca Tomlin are ensuring that the iPads are fully configured and assisted with the unboxing and physical set up.