K-12 Chemistry Outreach
Professional Development for Teachers of Chemistry and Science K-12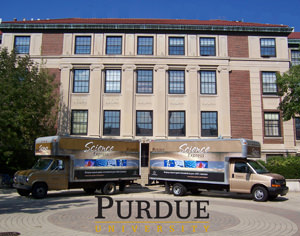 Science Express - Purdue Instrument Van Project
The College of Science at Purdue University, through its chemistry and biology departments, delivers research grade instruments to high schools throughout central Indiana. This project provides an opportunity for young students, from all backgrounds, to have hands-on learning experiences with instruments used in research laboratories today. These experiences increase the students' and teachers' skills and understanding of modern scientific technology. Check our website at http://www.science.purdue.edu/science-express/
NSTA Presentation about Energy
Energy Lesson Plans from SBII
Inquiry Learning Science Classroom
This program introduces teachers to the concept and structure of inquiry-learning, provides a variety of sample inquiry activities, and offers an opportunity for teachers to modify a component of their current curriculum to include more inquiry.
Implementing Scientific Probes in Your 6-12 Science Class
Scientific probes offer an inexpensive way to include hands-on laboratory activities and a variety of technology in your classroom.  Teachers will be trained to use Vernier Probeware with computers, graphing calculators, and Labquests.  Laboratory experiments will be available for teachers.  Teachers are strongly encouraged to adapt current classroom activities to use scientific probes, computers, graphing calculators, and Labquests.   Effective use of the mentioned technology meets Indiana Academic Standards, saves time, increases student interest, and advances student problem-solving ability.
Chemistry Department Visits
High school chemistry classes visit different research labs and support groups in the chemistry department.  The goal of the visits is to show students what chemistry research is really all about.  One day visits are available by appointment.
Summer Workshops
K-12 Chemistry Outreach and the College of Science Outreach offers a wide range of summer workshops for both teachers and students.  Please email Bill Bayley @ wbayley@purdue.edu or go to the College of Science Website at www.science.purdue.edu/outreach/.
If you are interested in these existing professional development opportunities or if you have other areas of professional development that you would like to discuss, please contact: wbayley@purdue.edu