Dissertations for Selected Years
2017-2018
| Name | Degree | Advisor | Title | Year |
| --- | --- | --- | --- | --- |
| Ayrton, Mr. Stephen | Ph.D. | Cooks, G | Chemical Reactions In The Gas Phase, Solution Phase And At Interfaces To Facilitate Mass Spectrometric Analysis And Rapid Synthesis | 2017-2018 |
| Cantwell, Ms. Kelsey | Ph.D. | Abu-Omar, M | Design And Synthesis Of Molybdenum-Dioxo Complexes And The Development Of Novel Methodologies | 2017-2018 |
| Choong, Ms. Shi | Ph.D. | Claridge, S | Strategies To Create Interfacial Patterning And Epitaxial Architectures Using Controllable Anisotropic Wetting At Scales <10 Nm On Polyfunctional Noncovalent Ligand Layers | 2017-2018 |
| Deng, Mr. Fengyuan | Ph.D. | Simpson, G | Multidimensional Nonlinear Optical Imaging | 2017-2018 |
| Falcone, Ms. Caitlin | Ph.D. | Cooks, G | Ambient Ionization Mass Spectrometry For Metabolomics And Reaction Acceleration | 2017-2018 |
| Hamada, Ms. Natalie | Ph.D. | Wilker, J | Mechanisms Of Curing Marine Mussel Adhesives | 2017-2018 |
| Hartline, Mr. Douglas | Ph.D. | Uyeda, C | Oxidative Processes Of Bimetallic Nickel Complexes Utilizing Redox Active Ligands | 2017-2018 |
| Johnson, Ms. Sara L. | Ph.D. | Bodner, G | Synthesis, Characterization, And Reactivity Of Low Valent Uranium Alkyls | 2017-2018 |
| Judkins, Ms. Eileen | Ph.D. | Ren, T | Multifaceted Inorganic Chemistry: Metal Oxide Materials For Use In Oxidation Catalysis -&- The Synthesis And Photophysics Of Macrocyclic Transition Metal-Alkynyl Complexes | 2017-2018 |
| Kong, Mr. John | Ph.D. | Kenttämaa, H | Development Of Tandem Mass Spectrometric Methods And Instrumentation For The Structural Elucidation Of Unknown Drug Metabolites Based On Ion/Molecule Reactions | 2017-2018 |
| Lee, Mr. Yong Gu | Ph.D. | Low, P | Design Of A Universal Chimeric Antigen Receptor-Expressing T Cells And Associated Tumor Targeting Ligands For Controlled Destruction Of Solid Tumors | 2017-2018 |
| Li, Ms. Qian | Ph.D. | Mao, C | Expanding The Toolbox For DNA Nanotechnology | 2017-2018 |
| Long, Mr. Joshua | Ph.D. | Ben-Amotz , D | Hydrophobic Hydration And Aggregation In Aqueous Solutions | 2017-2018 |
| Loren, Mr. Bradley | Ph.D. | Thompson, D | Part I: Polyrotaxanes As MRI Contrast Agents And NPC Therapeutics. Part II: Development Of An Analytic- Directed Synthesis System. | 2017-2018 |
| Matt, Ms. Sarah | Ph.D. | Ben-Amotz , D | Applications Of Multivariate Raman Spectroscopy | 2017-2018 |
| Max, Ms. Joann | Ph.D. | Kenttämaa, H | Mass Spectrometric Studies On A Functional Group-Selective Ion-Molecule Reaction And The Reactivity Of Bi And Polyradicals | 2017-2018 |
| Mazzotta, Mr. Michael | Ph.D. | Wilker, J | PART I- Oxorhenium Catalyst Design For Oxygen Atom Transfer Methodologies; PART II- Toughened Biomimetic Adhesive Polymers | 2017-2018 |
| Morales-de-Echegaray, Ms. Ana V. | Ph.D. | Wei, A | Antimicrobial Photodynamic Therapy With GA-Protoporphyrin Derivatives Against Pathogenic Bacteria | 2017-2018 |
| Osswald, Ms. Heather | Ph.D. | Ghosh, A | Structure-Based Design And Synthesis Of Novel Inhibitors Of HIV-1 Protease And Beta-Site Amyloid Precursor Protein Cleaving Enzyme 1 | 2017-2018 |
| Pattenaude, Mr. Scott | Ph.D. | Bart, S | Synthetically Guided Investigation Of Lanthanide And Actinide Redox And Bonding Properties | 2017-2018 |
| Pattenaude, Ms. Shannon | Ph.D. | Ben-Amotz , D | Hydration Shell Water Structure And Aggregation Of Small Amphiphilic Solutes | 2017-2018 |
| Regis, Ms. Morrisa | Ph.D. | Choi, K | Electrochemical Synthesis Of Thin Films For Use As Water And Biofuel Electrocatalysts | 2017-2018 |
| Rounds, Ms. Heather | Ph.D. | Uyeda, C | Oxidative Addition Reactions At A Metal-Metal Bond | 2017-2018 |
| Schnoebelen, Ms. Carly | Ph.D. | Hrycyna, C | Evaluation Of A Redesigned Chemistry Course Sequence For Undergraduate Life Science Majors | 2017-2018 |
| Sortedahl, Mr. Nicholas | Ph.D. | Wirth, M | Epoxide Bonded Phases For Chromatography And Immunoprecipitation | 2017-2018 |
| Steiman, Ms. Talia | Ph.D. | Uyeda, C | Stoichiometric And Catalytic Reactivity Of Dinuclear Nickel Complexes Containing A Redox-Active Ligand | 2017-2018 |
| Tomaine, Mr. Anthony | Ph.D. | Ghosh, A | Lewis Acid-Mediated Diastereoselective Synthesis Of Medium-Sized Cyclic Ethers And Studies Towards The Synthesis Of Plakortolide E And 6-Epiplakortolide | 2017-2018 |
| Veitschegger, Ms. Anne | Ph.D. | Ghosh, A | Synthesis Of Spliceostatin E And Decytospolide A And B And Progress Toward The Synthesis Of Thailanstatin A | 2017-2018 |
| Viccaro, Mr. Keith | Ph.D. | Shah, K | Design And Synthesis Of Bifunctional Atp Analogues For Proteome-Wide Labeling Of Direct Kinase Substrates | 2017-2018 |
| Wu, Mr. Siyu | Ph.D. | Mao, C | Strategies Of Programmed Self-Assembly Of Complex DNA Nanostructures | 2017-2018 |
| Yannell, Ms. Karen | Ph.D. | Cooks, G | Biofluid Analysis With Novel Targeted Mass Spectrometry Methods | 2017-2018 |
| Yerabolu, Mr. Ravikiran | Ph.D. | Kenttämaa, H | Mass Spectrometric Methods Development For The Characterization Of Components In Complex Mixtures For Enhanced Oil Recovery Operations And For Drug Development | 2017-2018 |
| Zhang, Mr. Shijie | Ph.D. | Simpson, G | Advanced Imaging Techniques For Point-Measurement Analysis Of Pharmaceutical Materials | 2017-2018 |
| Zhao, Ms. Jiemin | Ph.D. | Mao, C | Rationally Designed DNA Crystals And The Applications | 2017-2018 |
| Bowser, Mr. Andrew | M.S. | Thompson, C | Synthesis And Characterization Of Novel Double Perovskites | 2017-2018 |
| Daily, Ms. Shannon | M.S. | Wilker, J | Optimizing Strength And Versatility Of Underwater Adhesion Polymer System | 2017-2018 |
| Gilbert, Mr. Stephen | M.S. | Boudouris, B | Synthesis Of Next Generation Open-Shell Small Molecules: Effects Of Functional Group Modulation Of Blatter's Radical | 2017-2018 |
| Streacker, Mr. Louis | M.S. | Ben-Amotz , D | Miscellaneous Multivariate Raman Spectroscopy Projects Including Hydrated Proton Characterization | 2017-2018 |
| Valentino, Mr. Stephen | M.S. | Tantama, M | Engineering Genetically Encoded Sensors To Study Purinergic Signaling | 2017-2018 |
| Yu, Mr. Pengqing | M.S. | Ouyang, Z | Direct Extraction Spray Analysis Of Lipid Biomarkers In Injury Rat Spinal Cord | 2017-2018 |
| Zhang, Mr. Bin | M.S. | Lipton, M | Synthesis Of Ethylene Antagonists And An Anticancer DUPA Conjugate | 2017-2018 |
Ayrton, Mr. Stephen
"Chemical Reactions In The Gas Phase, Solution Phase And At Interfaces To Facilitate Mass Spectrometric Analysis And Rapid Synthesis"
(Advisor: Cooks, G , 2017-2018 )
Cantwell, Ms. Kelsey
"Design And Synthesis Of Molybdenum-Dioxo Complexes And The Development Of Novel Methodologies"
(Advisor: Abu-Omar, M , 2017-2018 )
Choong, Ms. Shi
"Strategies To Create Interfacial Patterning And Epitaxial Architectures Using Controllable Anisotropic Wetting At Scales <10 Nm On Polyfunctional Noncovalent Ligand Layers"
(Advisor: Claridge, S , 2017-2018 )
Deng, Mr. Fengyuan
"Multidimensional Nonlinear Optical Imaging"
(Advisor: Simpson, G , 2017-2018 )
Falcone, Ms. Caitlin
"Ambient Ionization Mass Spectrometry For Metabolomics And Reaction Acceleration"
(Advisor: Cooks, G , 2017-2018 )
Hamada, Ms. Natalie
"Mechanisms Of Curing Marine Mussel Adhesives"
(Advisor: Wilker, J , 2017-2018 )
Hartline, Mr. Douglas
"Oxidative Processes Of Bimetallic Nickel Complexes Utilizing Redox Active Ligands"
(Advisor: Uyeda, C , 2017-2018 )
Johnson, Ms. Sara L.
"Synthesis, Characterization, And Reactivity Of Low Valent Uranium Alkyls"
(Advisor: Bodner, G , 2017-2018 )
Judkins, Ms. Eileen
"Multifaceted Inorganic Chemistry: Metal Oxide Materials For Use In Oxidation Catalysis -&- The Synthesis And Photophysics Of Macrocyclic Transition Metal-Alkynyl Complexes"
(Advisor: Ren, T , 2017-2018 )
Kong, Mr. John
"Development Of Tandem Mass Spectrometric Methods And Instrumentation For The Structural Elucidation Of Unknown Drug Metabolites Based On Ion/Molecule Reactions"
(Advisor: Kenttämaa, H , 2017-2018 )
Lee, Mr. Yong Gu
"Design Of A Universal Chimeric Antigen Receptor-Expressing T Cells And Associated Tumor Targeting Ligands For Controlled Destruction Of Solid Tumors"
(Advisor: Low, P , 2017-2018 )
Li, Ms. Qian
"Expanding The Toolbox For DNA Nanotechnology"
(Advisor: Mao, C , 2017-2018 )
Long, Mr. Joshua
"Hydrophobic Hydration And Aggregation In Aqueous Solutions"
(Advisor: Ben-Amotz , D , 2017-2018 )
Loren, Mr. Bradley
"Part I: Polyrotaxanes As MRI Contrast Agents And NPC Therapeutics. Part II: Development Of An Analytic- Directed Synthesis System. "
(Advisor: Thompson, D , 2017-2018 )
Matt, Ms. Sarah
"Applications Of Multivariate Raman Spectroscopy"
(Advisor: Ben-Amotz , D , 2017-2018 )
Max, Ms. Joann
"Mass Spectrometric Studies On A Functional Group-Selective Ion-Molecule Reaction And The Reactivity Of Bi And Polyradicals"
(Advisor: Kenttämaa, H , 2017-2018 )
Mazzotta, Mr. Michael
"PART I- Oxorhenium Catalyst Design For Oxygen Atom Transfer Methodologies; PART II- Toughened Biomimetic Adhesive Polymers"
(Advisor: Wilker, J , 2017-2018 )
Morales-de-Echegaray, Ms. Ana V.
"Antimicrobial Photodynamic Therapy With GA-Protoporphyrin Derivatives Against Pathogenic Bacteria"
(Advisor: Wei, A , 2017-2018 )
Osswald, Ms. Heather
"Structure-Based Design And Synthesis Of Novel Inhibitors Of HIV-1 Protease And Beta-Site Amyloid Precursor Protein Cleaving Enzyme 1"
(Advisor: Ghosh, A , 2017-2018 )
Pattenaude, Mr. Scott
"Synthetically Guided Investigation Of Lanthanide And Actinide Redox And Bonding Properties"
(Advisor: Bart, S , 2017-2018 )
Pattenaude, Ms. Shannon
"Hydration Shell Water Structure And Aggregation Of Small Amphiphilic Solutes"
(Advisor: Ben-Amotz , D , 2017-2018 )
Regis, Ms. Morrisa
"Electrochemical Synthesis Of Thin Films For Use As Water And Biofuel Electrocatalysts"
(Advisor: Choi, K , 2017-2018 )
Rounds, Ms. Heather
"Oxidative Addition Reactions At A Metal-Metal Bond"
(Advisor: Uyeda, C , 2017-2018 )
Schnoebelen, Ms. Carly
"Evaluation Of A Redesigned Chemistry Course Sequence For Undergraduate Life Science Majors"
(Advisor: Hrycyna, C , 2017-2018 )
Sortedahl, Mr. Nicholas
"Epoxide Bonded Phases For Chromatography And Immunoprecipitation"
(Advisor: Wirth, M , 2017-2018 )
Steiman, Ms. Talia
"Stoichiometric And Catalytic Reactivity Of Dinuclear Nickel Complexes Containing A Redox-Active Ligand"
(Advisor: Uyeda, C , 2017-2018 )
Tomaine, Mr. Anthony
"Lewis Acid-Mediated Diastereoselective Synthesis Of Medium-Sized Cyclic Ethers And Studies Towards The Synthesis Of Plakortolide E And 6-Epiplakortolide"
(Advisor: Ghosh, A , 2017-2018 )
Veitschegger, Ms. Anne
"Synthesis Of Spliceostatin E And Decytospolide A And B And Progress Toward The Synthesis Of Thailanstatin A"
(Advisor: Ghosh, A , 2017-2018 )
Viccaro, Mr. Keith
"Design And Synthesis Of Bifunctional Atp Analogues For Proteome-Wide Labeling Of Direct Kinase Substrates"
(Advisor: Shah, K , 2017-2018 )
Wu, Mr. Siyu
"Strategies Of Programmed Self-Assembly Of Complex DNA Nanostructures"
(Advisor: Mao, C , 2017-2018 )
Yannell, Ms. Karen
"Biofluid Analysis With Novel Targeted Mass Spectrometry Methods"
(Advisor: Cooks, G , 2017-2018 )
Yerabolu, Mr. Ravikiran
"Mass Spectrometric Methods Development For The Characterization Of Components In Complex Mixtures For Enhanced Oil Recovery Operations And For Drug Development"
(Advisor: Kenttämaa, H , 2017-2018 )
Zhang, Mr. Shijie
"Advanced Imaging Techniques For Point-Measurement Analysis Of Pharmaceutical Materials"
(Advisor: Simpson, G , 2017-2018 )
Zhao, Ms. Jiemin
"Rationally Designed DNA Crystals And The Applications"
(Advisor: Mao, C , 2017-2018 )
Bowser, Mr. Andrew
"Synthesis And Characterization Of Novel Double Perovskites"
(Advisor: Thompson, C , 2017-2018 )
Daily, Ms. Shannon
"Optimizing Strength And Versatility Of Underwater Adhesion Polymer System"
(Advisor: Wilker, J , 2017-2018 )
Gilbert, Mr. Stephen
"Synthesis Of Next Generation Open-Shell Small Molecules: Effects Of Functional Group Modulation Of Blatter's Radical"
(Advisor: Boudouris, B , 2017-2018 )
Streacker, Mr. Louis
"Miscellaneous Multivariate Raman Spectroscopy Projects Including Hydrated Proton Characterization"
(Advisor: Ben-Amotz , D , 2017-2018 )
Valentino, Mr. Stephen
"Engineering Genetically Encoded Sensors To Study Purinergic Signaling"
(Advisor: Tantama, M , 2017-2018 )
Yu, Mr. Pengqing
"Direct Extraction Spray Analysis Of Lipid Biomarkers In Injury Rat Spinal Cord"
(Advisor: Ouyang, Z , 2017-2018 )
Zhang, Mr. Bin
"Synthesis Of Ethylene Antagonists And An Anticancer DUPA Conjugate"
(Advisor: Lipton, M , 2017-2018 )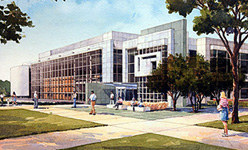 Bindley Bioscience Center