Undergraduate Chemistry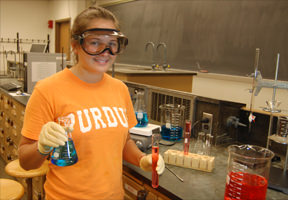 Chemistry offers extraordinary solutions during times of extraordinary challenge. New methods for making molecules and materials have had a transformational impact on our lives and the materials that surround us, and powerful tools for characterizing molecular processes allow us to understand how to do so efficiently, safely, and with minimized environmental impact. Nearly every area of science, technology, and medicine has been revolutionized by fundamental discoveries at the molecular level. Purdue Chemistry offers students the opportunity to:
Learn from world-class scientists who are focused on undergraduate education.
Access to state-of-the-art instrumentation to prepare you for jobs in the chemical industry.
Take your studies abroad to develop your skills at the international level.

Our undergraduates have pursued successful careers in:
Higher education
Medicine
Drug discovery
Teaching
Forensics
Consumer products
Management
Marketing
Patent law
Sales
Venture capital
Read more about, "What Can I Do With a Major in Chemistry?"

We believe that research is an integral portion of the training of chemists, and many of our undergraduate chemistry majors join research groups.
Our undergraduate research program can be found on our CHM 499 web page. Working closely with faculty, graduate students and post-doctoral fellows, our undergraduate chemistry majors are not only exposed to what chemistry is, they begin to appreciate how new chemical knowledge is obtained.
The College of Science offers additional information on research opportunities here.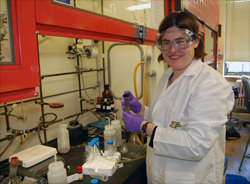 Plans of Study
Chemistry
Specializations:
Biochemistry
Bioinformatics
Forensic Sciences
ACS Chemistry
American Chemical Society accredited
ACS Biochemistry
American Chemical Society accredited
Chemistry Education
Includes state license
See the Purdue Course Catalog for more information about Chemistry courses and official plans of study.
You may view sample chemistry major plans of study here.
Electives
The strong emphasis on technical careers at Purdue University has advantages for our chemistry majors. They can select from a large number of electives in chemical engineering, materials science, physics, computer science and many more fields.
Chemistry provides a solid foundation for students continuing their studies in medical school as well as many of the other health profession careers. Read more about the importance of chemistry in medicine.
Key Benefits
Outstanding faculty committed to undergraduate education
Some of the finest undergraduate laboratories in the country
Commitment to excellence in teaching
Quality of the undergraduate research program