Francisco serves on President's Committee
2010-09-20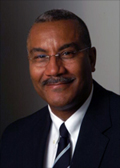 President Barack Obama announced his appointment of Professor Joseph Francisco as a memeber of the President's Committee on the National Medal of Science.
Francisco, the William E. Moore Distinguished Professor of Earth and Atmospheric Sciences and Chemistry, is one of four new committee members. The committee is composed of 12 presidentially appointed scientists and engineers, the director of the Office of Science and Technology Policy, and the president of the National Academy of Sciences.
"The National Medal of Science is the highest honor bestowed by the United States government on scientists, engineers and innovators," Francisco said. "It is our nation's expression of thanks to the men and women who have devoted decades to scientific discovery and achievement, and I am honored to serve on the committee."
Related links:
College of Science -Insights Magazinearticle:
"Joseph Francisco's inspiring rise to the top"