Alumni News and Updates
2019 Alumni Awards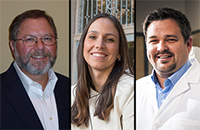 Three Chemistry alums were recognized with 2019 College of Science Alumni Awards: Joe Allison (Ph.D. 1983) Distinguished Alumni Award; Livia Eberlin (Ph.D. 2012) Early Career Award;  Justin Wiseman (Ph.D. 2006) Entrepreneurial Award. Read more
2018 Distinguished Alumni

Jackie Magno (B.S. 1985) was presented the College of Science Distinguished Alumni Award in spring 2018. She is Operating Committee Chair and Managing Director for Golden Seeds Silicon Valley. Prior to joining Golden Seeds, Jackie spent 20 years in various executive and leadership roles at SAP, Business Objects, GE Healthcare, Novell and IBM. Read more
ACS Award

Valerie J. Kuck (M.S. 1965) a retired Bell Labs researcher, will receive the American Chemical Society Francis P. Garvan-John M. Olin Medal for her pioneering research on coatings for optical fibers and copper wire and for transformative achievements leading to a more diverse and inclusive chemical profession. Read more
2017 Outstanding Alumni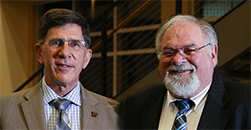 David D. Koch and Barry A. J. Fisher were recognized as Outstanding Alumni. Read biographies
2017 Distinguished Alumni

In Spring 2017, Henry C. "Hank" Foley (M.S., 1979) was recognized as a distinguished alumnus. Read biography
In Memoriam: Professor Derek Davenport

Professor Emeritus Derek Davenport died April 4, 2017 at the age of 89. He joined the Purdue faculty in 1953 and for many years, served as head the General Chemistry program, and received many undergraduate teaching awards.  Dr. Davenport served on many editorial boards and chaired both the American Chemical Society's Division of Chemical Education and the Division of the History of Chemistry before retiring in 1994. Full obituary
Alumna shares how she helped her government drastically improve its process for opening up new businesses

Charity Wayua (Ph.D., 2012) put her skills as a cancer researcher to use on an unlikely patient: the government of her native Kenya. Watch her TED Talk.
Alumni featured in P&G Black History Month video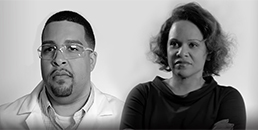 Ian Henry (Ph.D., 2008) and Rukeyser Thompson (Ph.D., 2002) were featured in a Procter & Gamble video recognizing P&G scientists with a vision. Watch it! And this news story.

In Memoriam: Professor Robert Benkeser

Professor Robert A. Benkeser died at the age of 96 on February 14, 2017. Bob came to Purdue as an assistant professor of chemistry and remained in the department until 1989, retiring as a Hovde Distinguished Service Professor. His research was in the area of organo-silicon chemistry, and he is known for the Benkeser Reduction Reaction that has been leveraged in industry chemical manufacturing processes. Bob served as Head of Chemistry from 1974-1978. He received numerous awards for excellence in teaching and research over his 43-year career at Purdue. Full obituary
ACS Award

Purdue alumna, M.S., 1990, Ph.D., 1994, and faculty member Marcy Towns will be presented the American Chemical Society Award for Achievement in Research for the Teaching & Learning of Chemistry. Read more
ACS Award in Mass Spec

Vicki Wysocki, Ph.D., 1987, will be presented the American Chemical Society Frank H. Field & Joe L. Franklin Award for Outstanding Achievement in Mass Spectrometry. Read more
In Memoriam: Jon Amy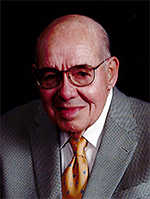 Jonathan W. Amy (Ph.D. 1955) passed away on December 4, 2016 at age 93. He had the unique vision to develop Purdue's chemical sciences instrumentation center that now bears his name - the Jonathan W. Amy Facility for Chemical Instrumentation. Read Professor R. Graham Cooks' remembrance of Dr. Amy.
Young Inventor and Entrepreneur

Kurtis Sluss, B.S. CHM/CHE (2016) recently co-founded a company (brightlamp, LLC) and received a patent for a mobile application used to detect signs of brain trauma or mental impairment for trained and untrained personnel. Read more
A Conversation with C. N. R. Rao

One of India's leading scientists, C. N. R. Rao, Ph.D., 1958, is featured in a journal article. Read more
NOBCChE Young Scientist Award

Alumnus Darryl A. Boyd, Ph.D., 2010, has been selected to receive the 2016 Lloyd N. Ferguson Young Scientist Award from the National Organization of Black Chemists & Chemical Engineers. Read more
2016 Outstanding Alumni

Gregory C. Davis, Catherine Erickson, and Christopher P. Leamon were recognized as Outstanding Alumni. Read biographies
Grove City College Professor of the Year

Alumnus Charles E. Kriley, Ph.D., 1993, was named the 2016 Omicron Delta Kappa Professor of the Year at Grove City College. Read more
In Memoriam
For the Love of Science and Art

Alumna Elaine Heron is giving back to the Department of Chemistry from two of her life's passions. Read more
Alum invited to White House

Alumnus Cary Supalo attended the National Medal of Technology and Innovation Awards ceremony. Read more
Purdue Pinnacle Award

Alumnus Frank Brown was presented the university's Pinnacle Award by President Mitch Daniels. Read more
Alum earns NSF Fellowship

Hannah Stringfellow (B.S. 2015) has been awarded an NSF fellowship as a graduate student at UC-Berkeley.  She is working with renewable fuel.
2016 Distinguished Alumni

Tony Hamer was presented the Purdue College of Science Distinguished Alumni Award. Read biography
In Memoriam
2015 Outstanding Alumni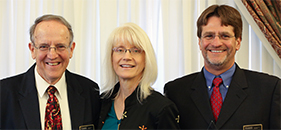 Richard Wien, Jennifer S. Brodbelt, and Timothy W. Coffindaffer were recognized as Outstanding Alumni. Read biographies
Chemistry and Cars

Chemistry alumna Ruth (Rivers) Bowers (B.S., 2002) and her husband Geoffrey Bowers (B.S., 2002, Chemical Engineering) have a new book, blog, and Twitter feed called, "Understanding Chemistry Through Cars." It is the first book to address chemical principles through automotive examples and is designed with features to make it suitable as a text or supplemental material for a chemistry course.
2015 Distinguished Alumni

Surendra Kulkarni was presented the Purdue College of Science Outstanding Alumni Award. Read biography
In Memoriam
2014 Outstanding Alumni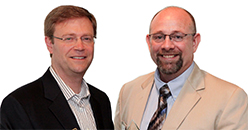 Dennis Barket, Jr. and Dennis Corrigan were recently recognized as Outstanding Alumni. Read biographies
2014 Distinguished Alumni

In Spring 2014, Charles Cameron will be recognized as a distinguished alumnus. Read biography
Chemistry Graduate featured in 2014 Forty Under 40

Chemistry alumna Ayanna Jackson is featured in Indianapolis Business Journal's 2014 "Forty Under 40." Read more
Eberlin presented Nobel Laureate Signature Award

Chemistry alumna Livia Eberlin will receive the "Nobel Laureate Signature Award For Graduate Education In Chemistry" at ACS Dallas. Read more
Alum's Company to be Honored For Service to The Blind

Chemistry alumnus Cary Supalo's company, Independence Science, will be honored by the American Foundation for the Blind for its contribution to universal accessibility. Read more.
Harrison Teacher picked for Science Teacher Fellowship

Chemistry alumna Samantha Carney, a chemistry teacher at Harrison High School in West Lafayette, Indiana, is one of four Indiana teachers who received a 2013-14 New Science Teacher Academy fellowship from the National Science Teachers Association. Read more
Alum receives India's Highest Civilian Honor

Purdue alumnus and international policy leader Chintamani Nagesa Ramachandra (C.N.R.) Rao was named a recipient of the Bharat Ratna, India's highest civilian award. Read more
Alum will serve as AACC Leader

David D. Koch, PhD, will serve a one-year term on the American Association for Clinical Chemistry Board as president-elect, followed by successive terms as the association's 66th president in 2015 and past president in 2016. Read more.
In Memoriam
2013 Outstanding Alumni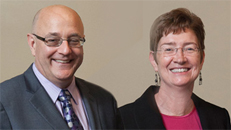 Alan A. Del Paggio and Vicki Hopper Wysocki were recently recognized as Outstanding Alumni. Read more
National Chemical Landmark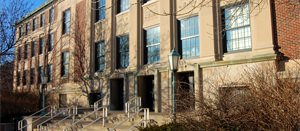 Generations of alumni have studied and worked in the Wetherill Lab Building and the American Chemical Society recently recognized it as a historic landmark. Read more.
Send us your news and comments!
Steve Scherer
Department of Chemistry
Communications Coordinator
scherer@purdue.edu
(765) 494-5204