Shepson and Purdue Team Test New Aviation Fuel
2010-10-26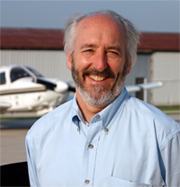 Chemistry Department Head Paul Shepson, along with a team of researchers at Purdue, is testing a new aviation fuel in conjunction with his on-going Airborne Laboratory for Atmospheric Research (ALAR) work.
Swift Enterprises Ltd. has entered into an agreement that will allow Purdue University researchers to test the company's unleaded, renewable general aviation fuel during various projects. Swift is developing its fuel to replace 100LL, the most commonly used fuel in the general aviation sector.
Shepson is testing SwiftFuel in a Beechcraft Duchess light twin aircraft used by ALAR. ALAR currently is funded by NASA and the National Institute of Standards and Technology to develop the capability to measure fluxes of greenhouse gases like carbon dioxide. Testing included two days of paired flights under similar atmospheric conditions, which allowed for a good head-to-head comparison of SwiftFuel and 100LL under actual flight conditions.
Shepson said the tests compared the fuels' performance, acceleration and operational differences on the ground and in the air.
"SwiftFuel performed very well during the tests," he said. "I was unable to discern any significant difference in performance between SwiftFuel and 100LL during the in-flight tests."
Source: Purdue University Research Park
Related links: