Ayanna Jackson
2010-02-12
Ph.D. Analytical Chemistry • 2010 M.G. Mellon Award
Pleasant, intelligent, energetic, and proactive. Those are just a few adjectives that faculty use to describe Dr. Ayanna Jackson. Since completing her Ph.D. in April, she has accepted a position at Dow AgroSciences in Indianapolis as a senior chemist in its regulatory labs.
The Brandywine, Maryland native balanced her own studies along with leadership roles within the analytical division and as a campus-wide mentor. "Ayanna is not only an excellent scientist and researcher, but she was the go-to person in my large lab," says Professor R. Graham Cooks.
Her research is focused on the analysis of a variety of materials using non-conventional mass spectrometry ionization techniques in applications such as rapid detection of chemicals in foodstuffs.
"My experience at Purdue will be unforgettable. I always strived to do my best and to help others along the way to achieve their goals," says Jackson.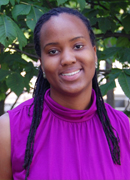 Dr. Ayanna Jackson
Purdue Chemistry
2010 Graduate