Negishi-Brown Institute Announced
2011-02-04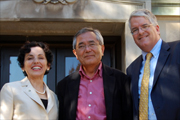 Professor Ei-ichi Negishi, winner of the 2010 Nobel Prize in chemistry, will lead a new research institute at Purdue University focused on catalytic organometallic chemistry.
Purdue President France A. Córdova announced the creation of the institute, named the Negishi-Brown Institute after Purdue's two Nobel Prize-winning organic chemists, on Thursday (Feb. 3) at the Ei-ichi Negishi Nobel Laureate Celebration Dinner in the Purdue Memorial Union.
"Fundamental research is the foundation of scientific achievement and drives meaningful advancements in important areas such as climate, food security and drug development," Negishi said. "We must build on what we have already discovered to help people and advance technology in ways that we can only imagine today. Fundamental research done here at Purdue will send ripples throughout the world in terms of interesting and important developments and applications."
The institute will support basic research in catalytic organometallic chemistry through graduate and postdoctoral fellowships, regular workshops and symposia, and establishing new relationships with industrial partners, he said.
Jeffrey Roberts, the Frederick L. Hovde Dean of the College of Science and chemistry faculty member, said the strength of Purdue's Department of Chemistry will serve as a foundation for the institute.
"That Purdue's two Nobel Prize winners have come from the organic chemistry group underscores its and the entire chemistry department's heritage of talented researchers," Roberts said. "Through the Negishi-Brown Institute, Purdue's pre-eminent researchers will collaborate with researchers throughout the world to advance scientific understanding and address the world's grand challenges."
Source: Purdue News Service