Professor Wirth named Distinguished Woman Scholar
2011-03-21
Mary Wirth, the W. Brooks Fortune Professor of Chemistry, has been named as one of the university's inaugural Distinguished Women Scholars.
Wirth joins fellow Purdue alumnae, M. Eileen Dolan, professor of medicine at the University of Chicago; and Nancy Ann Monteiro-Riviere, professor of investigative dermatology and toxicology at the Center for Chemical Toxicology Research and Pharmacokinetics in the College of Veterinary Medicine at North Carolina State University
The awards program, led by Purdue's Office of the Provost in partnership with Discovery Park's Susan Bulkeley Butler Center for Leadership Excellence, honors alumnae who earned a Purdue doctorate and have made significant scholarly contributions to their academic communities.
"These three women are indeed distinguished scholars. They make Purdue proud," said Beverly Davenport Sypher, vice provost for faculty affairs and the Susan Bulkeley Butler Chair for Leadership Excellence. "Each of these women is a role model to all of our scholars in the making, especially women students in STEM disciplines where they are most underrepresented. They also are a testament to the outstanding Purdue faculty advisers who mentored them through graduate school and helped launch their careers."
Purdue will honor Dolan, Monteiro-Riviere and Wirth on March 3-4 as part of the West Lafayette campus celebration of Women's History Month. A presentation is scheduled for 3 p.m. March 3 in Stewart Center, Room 206. The trio will discuss their career achievements, describe how their mentors helped them and offer advice to young scholars. To register, go online to http://www.purdue.edu/dp/sbbcle
Wirth's research focus is the separation and isolation of biomarker candidates in blood for early detection of cancer, and her teaching focus relates the principles of chemistry to current issues in the real world. She has received several honors including the ANACHEM Award, the Gold Medal Award in analytical spectroscopy; and the Spectrochemical Analysis Award of the ACS Division of Analytical Chemistry. Wirth also has been named a fellow of the American Association for the Advancement of Science.
She received her bachelor's degree in chemistry from Northern Illinois University in 1974 and a doctorate in chemistry from Purdue in 1978 under the direction of professor Fred E. Lytle. Since then, her career has taken her from coast to coast before returning to Purdue as a faculty member in 2009.
Source: University News Service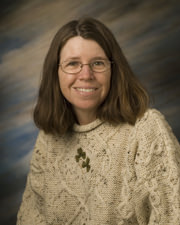 Mary Wirth
Professor
Analytical Chemistry