Ghosh receives NIH award to continue work on HIV/AIDS
2011-09-19
Arun K. Ghosh, the Ian P. Rothwell Distinguished Professor of Chemistry and Medicinal Chemistry in the colleges of Science and Pharmacy, received a Method to Extend Research in Time - or MERIT - award from the National Institute of General Medical Sciences. The award can provide an extended grant cycle of up to 10 years and is intended to lessen the burden of grant application submission for researchers with a history of talent and success.
"The MERIT award is given to scientists whose productivity has been superior and who are expected to deliver creative, innovative research that will have an exceptional impact on the field," said Richard O. Buckius, Purdue's vice president for research. "It gives researchers the freedom to explore avenues that may be perceived as risky, in terms of being a sure success, but that could offer tremendous rewards in terms of people's health and the advancement of science. The award is a testament to the hard work of Professor Ghosh and the promise of his research into treatments for HIV and AIDS."
Ghosh created a molecule that in 2006 became the first approved by the Food and Drug Administration to treat drug-resistant HIV. The drug molecule, known as Darunavir, is now approved in 80 countries and is used as a frontline therapy for HIV and AIDS. Ghosh continues to improve upon his original success and designs even more powerful molecules in an effort to improve treatments and reduce side effects.
Historically HIV has frustrated drug developers because of its ability to develop resistance to treatment. Research shows that almost half of patients with HIV who initially respond to treatment develop drug-resistant strains within eight to 10 months. An additional 20 percent to 40 percent of patients have drug-resistant strains when they are first diagnosed, suggesting these strains can be transmitted from one person to the next, Ghosh said.
Source: Purdue University News Service
Related links:
Ghosh Research Group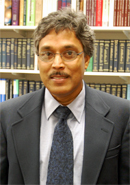 Arun Ghosh
Purdue University
Professor Organic/Medicinal Chemistry