Who We Are
Carly Schnoebelen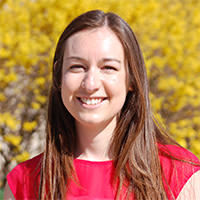 Carly first got involved in chemistry education as a preceptor in general chemistry while she was an undergraduate at the University of Arizona. She helped develop curriculum materials for a redesigned course, Chemical Thinking, oriented around teaching students how chemists think, as part of a grant from the Association for American Universities' STEM Undergraduate Education Initiative. This led to a research project studying interactions between chemistry students and preceptors and how they frame problem-solving activities.
After earning her B.S. in Biochemistry from the University of Arizona, she went on to Purdue University, where she is currently a second year graduate student in the Department of Chemistry. She is working towards her Ph.D. in Chemical Education with the goal of becoming a chemistry professor and improving undergraduate education through research-based best practices. At Purdue, she is a member of the Visualization in Biochemistry Education research group led by Dr. Trevor Anderson. In partnership with faculty and graduate students from the Department of Biological Sciences, they are investigating how students understand and reason with visual representations in biochemistry. Carly's dissertation research is focused on how biochemistry students understand metabolism from the perspective of systems thinking. Typically in biochemistry classes, metabolic pathways are taught through rote memorization, which leads to student misconceptions and fragmented knowledge. The goal of this study is to motivate and inform a more integrated approach to instruction, so that students develop a holistic understanding of metabolic pathways and the thermodynamic and kinetic principles that govern them and can apply this knowledge to build explanations, solve problems, and make predictions.
Heather Schoonover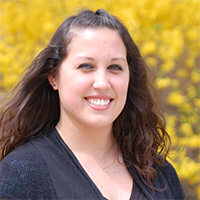 Heather is currently a second year graduate student at Purdue University. She is from Herrick, IL and obtained her Bachelor of Science degree in Biology and Chemistry from Millikin University. While there, she performed undergraduate research in Dr. Anne Rammelsberg's lab studying the antimicrobial activity of local plant extracts on Escherichia coli. She also worked in Dr. Paris Barnes' research lab synthesizing iron-oxide nanoparticles for possible detection and treatment of malignant tumors. After completing her undergraduate degree, she went on to receive her Master of Science in Chemistry at Eastern Illinois University working under Dr. Radu Semeniuc.  While here, she synthesized rotaxanes, which are later used in molecular organic frameworks.
Heather is currently at Purdue University working under Dr. Christopher Uyeda in the field of organometallics where she synthesizes binucleating chiral ligands which can potentially be used catalyze enantioselectivity in hydrosilylation, cyclopropanation, or alkyne cyclotrimerization reactions. She also assembles bimetallic nickel catalysts that can be used to facilitate ring opening reactions of small, strained cyclic rings such as aziridines and epoxides. Heather enjoys spending time with family and friends and participating in intramural indoor volleyball when she is not doing research.
Anthony Tomaine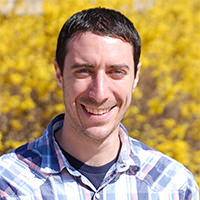 Born in Lafayette Hill, Pennsylvania, Anthony first got involved in chemistry at York College of Pennsylvania. Performing research in synthetic organic chemistry, he attempted to combat a toxic metabolite from the fungus A. flavus through an SAR study under Dr. Kathleen M. Halligan.  At York, Anthony was the President of the York College Chemistry Society, heading fundraising efforts, outreach events, IYC activities and grant proposals.  He also pioneered an IYC initiated project with the ACS and his professors at York to allow students to attend the UNFCCC Conference of Parties as ACS student ambassadors; it is the only ACS IYC project still in effect.
After York, Anthony obtained his Master's in Chemistry from Villanova University.  Under the supervision of Dr. Eduard Casillas, he investigated a total synthesis of Deoxyhelminthosporol, making advancements in the identification of various stereoisomers and progressing the synthesis to the final stages. It was here that he learned about his passion for chemistry and hence decided to pursue his PhD.
Anthony went on to attend Purdue University, where he is currently a second year graduate student.  Under the direction of Arun K. Ghosh, Anthony works on various projects which includes synthetic methodology and medicinal derivitization efforts. At Purdue, he received the Ross Fellowship for incoming graduate students in chemistry and currently holds the position of Organic Division Representative on the Graduate Student Advisory Board. When not doing research, Anthony stays active by playing soccer and volleyball, while also spending time with friends.
Susannah Cox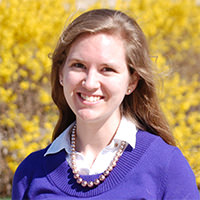 Susannah was born and raised Logansport, Indiana. She attended Butler University in the fall of 2010 as a Lilly Endowment Scholar. Over the course of the following four years, Susannah's love of chemistry grew as she became increasingly active in the university's chemistry department. She was invited to be a laboratory Teaching Assistant for the general chemistry courses. Her laboratory skills also did not go unnoticed, as during her senior year, she was a Stockroom Assistant for the Butler University Chemistry Department. These experiences led her to realize that she wished to pursue a Ph.D. in chemistry with the intent of teaching at the college level.
In the fall of her junior year Susannah began doing undergraduate research with Dr. Stacy O'Reilly. The project became the subject of her senior thesis and was focused on synthesizing a chemical feedstock from the glycerol waste of biofuels. The project utilized an inorganic catalyst to direct the formation of a 1,2 substituted dioxolane. From her time at Butler, she was named the Most Outstanding Junior Chemistry Major, received the Butler University Chemistry Department Emeritus Award, and was twice named a Top 100 Butler Student. Susannah received her B.S. in Chemistry from Butler University in the spring of 2014, graduating Magna Cum Laude with High Honors.
Susannah is currently pursuing her Ph. D. in Inorganic chemistry at Purdue University. She is a member of Dr. Tong Ren's group where she will be working with diruthenium σ-alkynyl compounds.  As a first year graduate student, Susannah is a Teaching Assistant for General Chemistry and also represents the first year students on the Graduate Student Advisory Board.
Kristen Gettys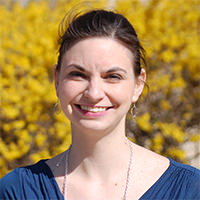 Kristen was born and raised in the piedmont of North Carolina. After receiving two associate's degrees from Gaston College and discovering her love of science, she transferred to the University of North Carolina at Greensboro to finish her Bachelor of Science degree in Chemistry, with a concentration in Biochemistry. In the spring semester of her senior year, she joined the research lab of Dr. Mitchell Croatt and subsequently decided to remain at UNC Greensboro to complete a terminal Master's degree in Chemistry. In 2013 she graduated and was awarded the American Institute of Chemists award for her work on palladium catalyzed decarboxylation.
As a second year graduate student at Purdue, Kristen is carrying out research under the leadership of Dr. Mingji Dai. Her work thus far has included a methodology project based on the Fisher Indole synthesis, as well as a medicinal chemistry project that aims to target "undruggable" protein-protein interactions. While not in lab, Kristen enjoys educating kids of all ages through programs such as Purdue Space Day, regional science fairs, and National Chemistry Week through Purdue's chapter of Iota Sigma Pi. She is also currently serving as the Chair of professional grants through Purdue's Graduate Student Grant Review and Allocation Committee. 
Stephen Ayrton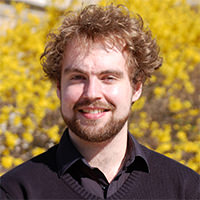 Stephen obtained his B.Sc. and M.Chem from the University of Bradford in the United Kingdom under the supervision of Dr. Richard D. Bowen in 2013. His undergraduate work has focused on organic chemistry coupled with mass spectrometry, which continued through his Master's research. The British Mass Spectrometry Society provided a formative summer studentship to Stephen in the summer of 2010, during which time he undertook a project involving the synthesis of indole compounds and the analysis of their properties via mass spectrometry, a project in collaboration with Dr. Richard Gallagher from Astra Zeneca. Engaging with the scientific community, Stephen has presented posters at an international conference (The Annual Meeting of the British Mass Spectrometry Society – 2012), and at a special conference to honor the work of Dr. Keith Jennings. It was at the latter conference that he met Professor R. G. Cooks and enquired about opportunities at Purdue.
Stephen traveled to Purdue University to study analytical chemistry under the supervision of Professor R. G. Cooks, where he is currently a second year graduate student.  His current research pursues the detection of trace levels of material via labeling with tags amenable to detection via mass spectrometry.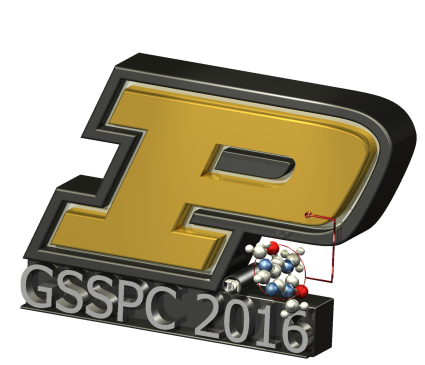 About us:
The Purdue GSSPC is tasked with delivering a symposium at the 251st ACS National Meeting in March 2016 on the subject of molecular imaging. We hope to deliver a symposium covering many modern research topics encompassed by this broad field.
If you have any questions related to the symposium, please don't hesitate to contact any one of the co-charis listed below.
Co-Chairs
Anthony Tomaine
atomaine@purdue.edu
Kristen Gettys
kgettys@purdue.edu
Susannah Cox
cox55@purdue.edu
Heather Schoonover
hschoono@purdue.edu
Carly Schnoebelen
cschnoeb@purdue.edu
Stephen Ayrton
sayrton@purdue.edu