Chemistry Maintenance Shop
Chemistry building operations and services to support research.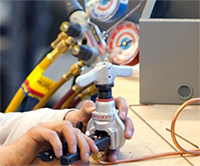 Location
Wetherill Chemistry Building - Room 141
Hours
Monday - Friday
7:00am - 4:00pm
Phone
(765) 494-5209
Service Request
Chemistry Shop Duties
Departmental keys (Read more about key checkout procedure)

Two departmental vans for on/off-campus transportation

Vacuum pump repairs

Refrigeration & Ice machine repairs

Phone installation and repairs

Carpentry, plexiglas, and metal project fabrication

Chemical hood troubleshooting

Electrical equipment troubleshooting

Lab renovation and modification

Autoclave & photo processing questions

Equipment can be borrowed (departmental only)

Physical Facilities liaison for:

Building offices/lab heating and cooling issues
Light fixtures
Elevators
Recycling (Equipment, light bulbs, batteries)
Chemical spills
In case of Emergency
If an emergency happens during the day, call Purdue Police Department (765) 494-8221 and (if you have time) the Chem Shop (765) 494-5209 to tell us which building and room, so we can assist emergency crews. After hours emergency calls should be made to Purdue Police Department (765) 494-8221.