His Personal Story
Melvin Guy Mellon was born on a farm near Erie, Pennsylvania in 1893. He attended a one room school that housed eight grades. He and his brother drove a horse-drawn sleigh to school during the snowy Northwest Pennsylvania winters.
At an early age, Mellon learned to play the piano and developed a lifelong appreciation for music. He was one of two people in his high school class. After graduation from Conneaut Lake High School in 1910, Mellon enrolled in Allegheny College and received his bachelor's degree there in 1915. His graduate work was done at Ohio State University where he obtained his Ph.D. in 1919.
He and his wife Catharine met at Ohio State and were wed in 1919 in Cleveland, Ohio. The Mellon's were married for 71 years. Both Catharine and the Mellon's daughter, Frances, were accomplished musicians. Mr. and Mrs. Mellon were active in social aspects of the department, helping new faculty and their families adjust to their transition to Purdue.
Mellon's awards include honorary degrees from Allegheny College, Mount Union College, and Purdue University. He received the Fischer Award (1952), Anachem Award (1953) and A. M. Patterson Award (1957), and his publications number more than 200. Professor Mellon died in 1993; just seven weeks shy of his 100th birthday.
After his death, The Professor M. Guy Mellon Scholarship was established in 2008 and the Amy-Mellon Lectureship in Analytical Chemistry in 1988.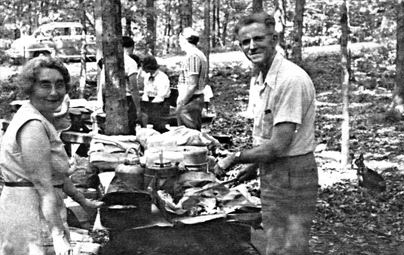 The Mellons at Turkey Run State Park entertaining chemistry grad students.
ca. 1930s
Sources:
Oral History of Guy Mellon, Derek Davenport & William Jensen
My Three Score and Ten Purdue Years (1919-1989), M.G. Mellon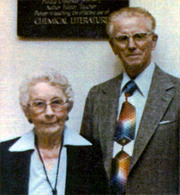 Catherine & Guy Mellon