Dress Code in Teaching Labs
Policy August 2009 (draft Oct 2009, will replace 2003 policy)
Applies to BRWN teaching laboratories. This policy supersedes any lesser requirements which might appear in lab manuals.
Complying with safety regulations is a minimum requirement for being allowed to work and learn in a chemistry laboratory.
Goggles: For your safety, chemical splash goggles (not safety glasses, not other types of goggles) must be worn in the laboratory at all times, including check-out. There are NO exceptions. Chemical splash goggles may be purchased at the local bookstores, or at the CHAS storerooms on the 1st and 4th floors.
Laboratory clothing and footwear: Everyone in the lab must conform to this at all times, including check-out.
Clothing which covers the body from the neck to the ankles, shoulders, and feet.
Shirts (tops) which cover shoulders and underarms completely, as well as the back and entire abdominal area when standing, sitting or reaching.
Pants and skirts must be long enough to reach the ankle when standing or sitting.  Skin should not be exposed between the bottom of the pants and top of the footwear, nor anywhere else except on the neck, and lower parts of arms.  Clothing with holes which leave skin inadequately protected are not allowed.
Shoes must cover the entire foot.  Footwear with open toes, open heels or other decorative openings are not allowed in the lab.
Contact lenses: Contact lens wearers are encouraged to wear glasses (under their chemical splash goggles) in the laboratory.  See Contact Lenses and discuss your contact lens questions with your instructor.
Hair: Hair longer than shoulder length must be tied back or constrained in such a way that there is no risk of it making contact with lighted Bunsen burners and other potential hazards.  Rubber bands are available in the laboratory.
Audio-visual equipment: Audio/visual equipment is not allowed in the laboratory unless the professor in charge of the course is using such equipment for educational purposes.
Food & beverages: Food and beverages are not allowed in the laboratory.
---
NOTES:
"This policy...." applies primarily to chemical lab work in teaching labs, when any chemicals are being used in any manner that could cause exposure to the TA, the student working with the chemical, or any other student. In situations where there are no hazardous chemicals in use, and no risk of chemical exposure or other eye injury is present, the requirement for chemical splash goggles may be suspended by your instructor.
"Everyone in the lab" generally includes everybody in the room for any time -- students, teaching assistants, visitors, professors, etc, with this qualification:
Exceptions might be made for Prep Lab staff, Course Supervisors, Faculty, General Chemistry staff and other Department or University officials or their guests who enter the lab for a short period of time. Depending on the circumstances the PPE and dress requirements may be changed slightly, but will ALWAYS include chemical splash goggles.
"shirts (tops) must cover...." Coverage requirements are pretty well spelled out except for the amount of neck/throat regarded as must-be-covered. The more covered, the better protected, and the arrangements below are shown as examples of combinations of lab coat and/or clothing which do provide appropriate coverage. The Department of Chemistry Safety Committee recommendation is that that if a lab coat is required, then the requirement includes that the lab coat
be a commercial manufacture lab coat,
have buttons/snaps that close the coat up to at least sternum height and down below waist level, and
be kept buttoned/snapped closed.
OK combinations of lab coat and shirt: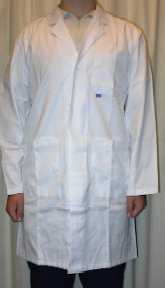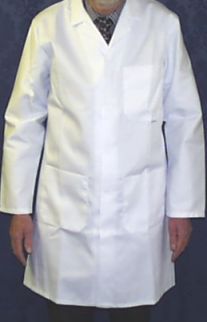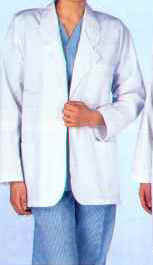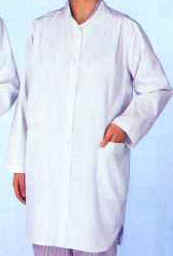 NOTE: coverage to above the clavicles is much better protection than the coverage provided by the standard issue lab coats available at Chem Stores. The clavicle is also referred to as the "collar bone. " Most lab coats do not adequately cover the clavicle, so it is necessary to wear something under the lab coat that provides better coverage.