X-Ray Crystallography
Data collection, structure analysis, and crystallography consultation services.
The X-Ray Crystallography Facility provides services and resources related to X-ray analysis such as single crystal structure analysis for organic, inorganic, metal organic and hybrid materials (indexing, unit cell and structure determinations, absolute structure), powder and multicrystalline X-R-ray diffraction (phase ID, Rietveld analysis, high temperature measurements, thin film measurements, X-ray reflectivity) and also X-ray fluorescence analysis.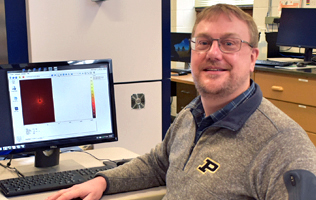 Location
Wetherill Chemistry Building - Room 101
(right under the Catalyst Cafe)
Mailing Address
Dr. Matthias Zeller
Purdue University, Department of Chemistry
X-ray Crystallography, Wetherill 101
560 Oval Drive
West Lafayette, Indiana 47907-2084
Hours
Monday - Friday
8:00am - 5:00pm
Extended hours upon appointment. For approved users the facility is open 24/7. Please contact Dr. Zeller to schedule training for after hours and weekend access.
Please follow the links below for detailed sample submission instructions:
Single Crystal Diffraction Analysis
Powder / Multicrystalline X-ray Diffraction Analysis