X-Ray Crystallography
Data collection, structure analysis, and crystallography consultation services.
The X-Ray Crystallography Facility provides services and resources related to X-ray diffraction analysis of crystalline materials such as single crystal structure analysis for organic, inorganic, metal organic and hybrid materials (indexing, unit cell and structure determinations, absolute structure), powder and multicrystalline XRD (phase ID, Rietveld analysis, high temperature measurements, thin film measurements, X-ray reflectivity) as well as, starting Fall 2019, also X-ray fluorescence analysis.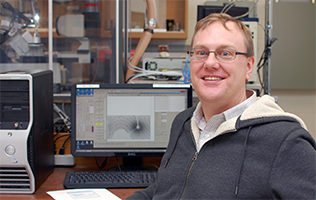 Location
Wetherill Chemistry Building - Room 101
(right under the Catalyst Cafe)
Mailing Address
Dr. Matthias Zeller
Purdue University, Department of Chemistry
X-ray Crystallography, Wetherill 101
560 Oval Drive
West Lafayette, Indiana 47907-2084
Hours
Monday - Friday
8:00am - 5:00pm
Extended hours upon appointment. For approved users the facility is open 24/7. Please contact Dr. Zeller to schedule training for after hours and weekend access.
Please follow the links below for detailed sample submission instructions:
Single Crystal Diffraction Analysis
Powder / Multicrystalline X-ray Diffraction Analysis